CST Executive Team
Founded in 1999, CST is a private, family-owned company with over 400 employees worldwide. Our executive management team is proud to lead a company of scientists for scientists.
Top Places to Work
CST is honored to be voted one of the Boston Globe's "Top Places to Work" for 6 years in a row.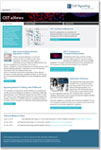 News from the Bench
Discover what's going on at CST, receive our latest application notes, science features, and more.
Digital Marketing Specialist
Danvers, MA
Cell Signaling Technology, Inc. (CST) is a worldwide leader in the development and commercialization of antibodies, assays and research tools. As a company of scientists for scientists, we have developed PTMScan®, a technology to discover protein post-translational modifications, PhosphoSitePlus®, an online resource for investigation of post-translational modifications, and XMT® technology, a proprietary method to develop exceptional monoclonal antibodies. We are fully committed to developing new research tools to help define the mechanisms underlying cell function and disease, thereby broadly accelerating progress in biomedical research and medicine.
We are recruiting a Digital Marketing Specialist with strong analytical skills for our global marketing team in Danvers, MA. The ideal candidate will possess a strong understanding of retrospective analytics and how best to leverage historical data for optimizing campaigns, as well as have a working knowledge of implementing custom analytics tracking codes.
Responsibilities:
Analyze website traffic and trends as well as provide data-driven insights into opportunities and improvements to the current website.
Work with the CRM Program Manager to verify the flow of information within SalesForce.com, including maintaining high-levels of data quality and day-to-day integrity of the data.
Implement custom tracking codes, manage server URLs and define vanity URLs within a CMS.
Provide campaign-based reporting on website traffic to determine optimal click-streams of customers.
Work with Product Managers on developing and maintaining customer personas to help target various campaigns and workflows.
Identify both short and long term approaches and digital initiatives for key customer segments, to grow customer acquisition, retention and cross selling.
Process and analyze industry insights to suggest methodologies, both paid and organic, for increasing visitor traffic.
Work with multiple teams, both domestic and internationally, to define reporting requirements and set goals.
Manage Google AdWords campaigns for domestic and international websites.
Requirements:
3+ years experience in digital marketing.
BS/BA required.
Strong experience with SalesForce.
Experience working with marketing tools such as CRMs, inbound marketing software, marketing automation tools and web analytics software.
Past experience in CRM business processes including Forecasting, Campaign Management, Lead Management, Pipeline Management and Account Management.
Experience with jQuery.
Previous experience working with multiple Google AdWords campaigns / accounts.
Demonstrated proficiency in XHTML, HTML5, CSS, JavaScript, and RUBY/PERL scripting.
Proficiency in desktop publishing/imaging applications such as Adobe PhotoShop, Illustrator, and InDesign.
You will be taken to an external website, please attach your cover letter and resume as one document and refer to job code DIGI- 2014-08-B when applying.