CST Executive Team
Founded in 1999, CST is a private, family-owned company with over 400 employees worldwide. Our executive management team is proud to lead a company of scientists for scientists.
Top Places to Work
CST is honored to be voted one of the Boston Globe's "Top Places to Work".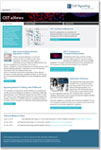 News from the Bench
Discover what's going on at CST, receive our latest application notes, science features, and more.
Proteomic Services Sales Specialist, East Coast
Danvers, MA
Cell Signaling Technology, Inc. (CST) is a worldwide leader in the development and commercialization of antibodies, assays and research tools. As a company of scientists for scientists, we have developed PTMScan®, a technology to discover protein post-translational modifications, PhosphoSitePlus®, an online resource for investigation of post-translational modifications, and XMT® technology, a proprietary method to develop exceptional monoclonal antibodies. We are fully committed to developing new research tools to help define the mechanisms underlying cell function and disease, thereby broadly accelerating progress in biomedical research and medicine.
We are recruiting an outstanding technical sales specialist to drive company's growth in Proteomics Services and Products. This individual will interact with both internal and external personnel to support customers at Academic, Pharmaceutical/Biotech, Government Laboratories and Research Institutes in the East Coast US region (North and South). The position will report directly into the Director of U.S. Sales, and will work collaboratively with Account Managers, Regional Managers, Marketing, Product Scientists, the Proteomics Service Manager and other Proteomic Services Sales Specialists to form an integrated Service team.
Primary Responsibilities:
Meet or exceed revenue target in assigned territory.
Work collaboratively with Proteomics Service Group, Sales, Marketing and Operations to support commercialization of Cell Signaling Technology's services and products.
Identify, qualify and cultivate key decision-makers within targeted organizations to establish long-term relationships that result in multi-year engagements. Prioritize new business leads according to the alignment of CST capabilities and customer needs.
Develop and maintain a pipeline of prospective clients and coordinate management of territory with local Sales team. Actively develop opportunities through project definition, business negotiations, through to service agreements. Support customers throughout their project and provide ongoing account support.
Provide timely and accurate reporting of pipeline, account plans and territory management activities.
Maintain knowledge of Proteomics field, including CST and competitive offerings.
Required/Preferred Education:
Bachelor's degree in relevant scientific field required (Analytical Science, Biology, Biochemistry). Masters or Ph.D. in relevant scientific field preferred.
Required/Preferred Experience:
Minimum of 5 years experience in science field required. 2+ years of experience in Sales and/or Technical Service preferred. Background in Proteomics and understanding of Signaling Biology preferred.
Other Requirements:
Physically based in New England. 25-50% travel outside New England. Excellent written and spoken English language skills. Ability to present scientific materials in client meetings and/or conferences. Strong organizational skills. Excellent interpersonal and negotiation skills.
You will be taken to an external website, please attach your cover letter and resume as one document and refer to job code PSSP-2014-06-R when applying.