CST Executive Team
Founded in 1999, CST is a private, family-owned company with over 400 employees worldwide. Our executive management team is proud to lead a company of scientists for scientists.
Upcoming Events
Come visit Cell Signaling Technology (CST) at one of the upcoming conferences or vendor shows we are attending. Please stop by the CST booth to meet with one of our scientists, learn about new products, pick up some reference material or simply stop by to say hello.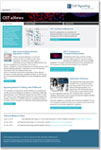 News from the Bench
Discover what's going on at CST, receive our latest application notes, science features, and more.
Laboratory Technician - Buffer Prep
Danvers, MA
Cell Signaling Technology, Inc. (CST) is a worldwide leader in the development and commercialization of antibodies, assays and research tools. As a company of scientists for scientists, we have developed PTMScan®, a technology to discover protein post-translational modifications, PhosphoSitePlus®, an online resource for investigation of post-translational modifications, and XMT® technology, a proprietary method to develop exceptional monoclonal antibodies. We are fully committed to developing new research tools to help define the mechanisms underlying cell function and disease, thereby broadly accelerating progress in biomedical research and medicine.
Job Summary
We are seeking a highly motivated and responsible candidate to be a Lab Technician in the Buffer Prep Laboratory at Cell Signaling Technology's (CST) biotechnology facilities located in Danvers and Beverly, MA. Responsibilities include providing high quality and highly responsive Buffer Prep service in support of CST's Production, Development and Research laboratories.
Key Responsibilities
Prepare and maintains centralized stock Buffers and materials for in-house use by all CST labs (such as Western Blot buffers, PBS, dialysis tubing, etc)
Prepare and maintains buffer and solution inventory for Product Scientists for use in CST products
Prepare and maintains bacterial media and agar plates for central stock and on-demand requests
Prepare a wide variety of solutions upon request
Perform "daily rounds" inspection to determine daily prep schedule for stock buffers, dialysis tubing, etc
Adhere to high quality Standard Operating Procedures generated in collaboration with Lab Management and lab end users
Maintain Buffer Prep production tracking/recordkeeping
Participate in Quality Management/ISO implementation
Conduct routine procurement and organization activities of Buffer Prep chemicals and lab supply inventories
Troubleshoots problems, inventory or quality control, in collaboration with end users, with Buffer Prep coworkers, end users, management, and/or suppliers
Establish solid relationships with the Lab Services group, "customers" (CST scientists) and lab supply vendors
Assist in Lab Services operations as necessary
Position Requirements
BA/BS in science or equivalent with work experience
2+ years experience working in a laboratory environment, cGMP experience a plus
Service and safety oriented, self-motivated and proactive
Organized, strong attention to detail and excellent time management skills
Experience working independently and in a team-oriented, collaborative environment
Ability to prepare buffers quickly and handle multiple preparations efficiently
Consistently follow protocols and other directions and rarely make errors
Dependable, takes initiative and responsibility for own actions
Flexible, adaptable, able to respond to changes in routine
Strong listening, verbal and documentation skills
Excellent judgment, critical thinking and interpersonal skills a must for working a dynamic fast-paced environment
You will be taken to an external website, please attach your cover letter and resume as one document and refer to job code LTBP-2014-11-R when applying.