CST Executive Team
Founded in 1999, CST is a private, family-owned company with over 400 employees worldwide. Our executive management team is proud to lead a company of scientists for scientists.
Top Places to Work
CST is honored to be voted one of the Boston Globe's "Top Places to Work".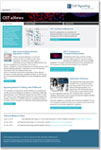 News from the Bench
Discover what's going on at CST, receive our latest application notes, science features, and more.
Research Associate - Molecular Biology
Danvers, MA
Cell Signaling Technology, Inc. (CST) is a worldwide leader in the development and commercialization of antibodies, assays and research tools. As a company of scientists for scientists, we have developed PTMScan®, a technology to discover protein post-translational modifications, PhosphoSitePlus®, an online resource for investigation of post-translational modifications, and XMT® technology, a proprietary method to develop exceptional monoclonal antibodies. We are fully committed to developing new research tools to help define the mechanisms underlying cell function and disease, thereby broadly accelerating progress in biomedical research and medicine.
We are seeking a self-motivated individual with a strong background in molecular biology and biochemistry. The successful candidate will join a highly dynamic and diverse group with experience in molecular and cell biology, protein expression and purification, and high throughput process development.
Required Qualifications
BS, BA or MS degree in a biological science (e.g. molecular biology, cell biology, biochemistry or biotechnology).
2+ years of post-graduate laboratory experience in molecular biology or biochemistry.
The successful candidate will be detail-oriented, well organized and able to work in a fast-paced environment.
Skills and Experience
Intermediate to advanced level experience with laboratory techniques in molecular biology, including but not limited to:
Molecular cloning (ability to design expression constructs and cloning strategies is highly desirable)
PCR
RNA extraction and manipulations
Protein analysis (e.g. SDS PAGE/ western blot)
Protein affinity purification
Experience with DNA and protein sequence analysis tools
Knowledge and hands-on experience with technical instrumentation, including but not limited to: HPLC, AKTA-FPLC or Liquid-handling robots.
Practical familiarity with computer programming languages (e.g. Python, Java, JavaScript) is a plus.
You will be taken to an external website, please attach your cover letter and resume as one document and refer to job code RAMB-2014-12-R when applying.