CST Executive Team
Founded in 1999, CST is a private, family-owned company with over 400 employees worldwide. Our executive management team is proud to lead a company of scientists for scientists.
Upcoming Events
Come visit Cell Signaling Technology (CST) at one of the upcoming conferences or vendor shows we are attending. Please stop by the CST booth to meet with one of our scientists, learn about new products, pick up some reference material or simply stop by to say hello.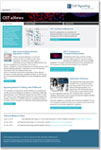 News from the Bench
Discover what's going on at CST, receive our latest application notes, science features, and more.
Product Marketing Manager
Danvers, MA
Cell Signaling Technology, Inc. (CST) is a worldwide leader in the development and commercialization of antibodies, assays and research tools. As a company of scientists for scientists, we have developed PTMScan®, a technology to discover protein post-translational modifications, PhosphoSitePlus®, an online resource for investigation of post-translational modifications, and XMT® technology, a proprietary method to develop exceptional monoclonal antibodies. We are fully committed to developing new research tools to help define the mechanisms underlying cell function and disease, thereby broadly accelerating progress in biomedical research and medicine.
The CST Marketing Team is seeking an experienced Product Marketing Manager. This is an opportunity to be part of a dynamic team and have responsibility for a portfolio of research products centered around around key workflow solutions such as flow cytometry and immunoassays. The role involves working cross functionally with Marketing Communications, Sales, Product Development and Manufacturing to develop and execute product strategy and requires someone with strong history of success the commercialization of highly scientific products.
Responsibilities
Lead strategic and tactical planning efforts around key market segments in order to make investment recommendations to the leadership team
Develop product portfolio roadmap in collaboration with sales and product development
Owns new product introduction from concept to commercialization, working closely with manufacturing, product development, marketing communications and sales
Analyze and define target market: market size, growth, attractiveness
Develop and implement market research strategy (VOC, primary research, surveys, focus groups) to guide product line planning
Perform and monitor market trends and customer needs to identify opportunities for increasing customer and business value through product differentiation
Assist commercial teams in product and market knowledge sales support (sales support, training)
Build and execute marketing plans and campaigns to support product road map and strategic priorities
Report on business performance, trends and corrective actions
Desired experience
5-10 years experience in product marketing or related role
Strategic planning experience
Bachelor's degree in life science related subject
Experience of managing a reagent product line (antibodies and kits an advantage)
Familiar with immunoassay, flow and IHC applications
Experience with workflow products (reagent / instrument solutions)
Understanding of translation research and cGMP and Dx
Working with global sales channels and distributors
Direct sales experience a plus
Personal Attributes
Goal oriented
Mature can-do attitude
Positivity and passion
Excellent communication skills and ability to build strong cross functional relationships
Good problem solving skills and willingness to think outside the box
Ability to work in a changing environment
You will be taken to an external website, please attach your cover letter and resume as one document and refer to job code PMM-2015-32-R when applying.