CST Executive Team
Founded in 1999, CST is a private, family-owned company with over 400 employees worldwide. Our executive management team is proud to lead a company of scientists for scientists.
Top Places to Work
CST is honored to be voted one of the Boston Globe's "Top Places to Work".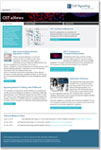 News from the Bench
Discover what's going on at CST, receive our latest application notes, science features, and more.
Product Marketing Manager
Danvers, MA
Cell Signaling Technology, Inc. (CST) is a worldwide leader in the development and commercialization of antibodies and assays for pathway analysis, as well as novel discovery technologies such as PhosphoScan®. We are committed to developing innovative new research tools to help define the mechanisms underlying cell function and disease, thereby broadly accelerating progress in biomedical research and medicine.
The Product Marketing Manager will proactively manage product lifecycles from introduction to maturity by developing and executing marketing programs to support revenue objectives of new and existing products. She/He will work with product development and outside experts to ensure marketability of new products. This position will be responsible for determining current and relevant market needs. She/He will work with members of marketing, development, and sales to best develop and communicate product launch information and training for the global organization. As a member of the product marketing team, the person will perform market assessments and contribute to business case development.
Requirements
PhD/MS in Cell Biology, Biochemistry, or relevant field, 3-5 years experience marketing life science products, 1-3 years bench experience, extraordinary communication and leadership skills, attention to detail and proven success within an organization as shown by increasing responsibilities. Strong initiative, comfort working with Thought Leader customers, and the ability to identify, market and analyze products from inception to launch on a regular basis required. 10-20% travel required.
You will be taken to an external website, please attach your cover letter and resume as one document and refer to job code PMMG-2014-15-R when applying.