CST Executive Team
Founded in 1999, CST is a private, family-owned company with over 400 employees worldwide. Our executive management team is proud to lead a company of scientists for scientists.
Top Places to Work
CST is honored to be voted one of the Boston Globe's "Top Places to Work".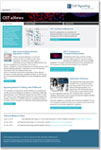 News from the Bench
Discover what's going on at CST, receive our latest application notes, science features, and more.
Production Associate - Customs
Beverly, MA
Cell Signaling Technology, Inc. (CST) is a worldwide leader in the development and commercialization of antibodies and assays for pathway analysis, as well as novel discovery technologies such as PhosphoScan®. We are committed to developing innovative new research tools to help define the mechanisms underlying cell function and disease, thereby broadly accelerating progress in biomedical research and medicine.
We are seeking a talented and highly motivated team player to join the Production Department as a Production Associate. Responsibilities include antibody purification and quality control. Major techniques involved in this job include Western blotting, immunoprecipitation, cell culture and affinity purification. A BS in biology or related discipline with 2 + years of laboratory experience is required. Excellent communication and organizational skills and a willingness to learn new techniques are a must.
You will be taken to an external website, please attach your cover letter and resume as one document and refer to job code PACP-2014-17-R when applying.