CST Executive Team
Founded in 1999, CST is a private, family-owned company with over 400 employees worldwide. Our executive management team is proud to lead a company of scientists for scientists.
Top Places to Work
CST is honored to be voted one of the Boston Globe's "Top Places to Work" for 6 years in a row.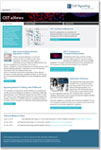 News from the Bench
Discover what's going on at CST, receive our latest application notes, science features, and more.