Technical Support
Our scientists are at the bench daily to produce and validate our antibodies, so they have hands-on experience knowledge of each antibody's performance. These same scientists will personally provide technical support.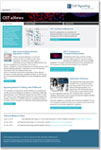 News from the Bench
Discover what's going on at CST, receive our latest application notes, science features, and more.
Cell Signaling Technology, Inc. Announces Joint Commercialization Partnership with Astellas Pharma in Cancer Personalized Medicine
DANVERS, MA – February 22, 2011 – Cell Signaling Technology, Inc. (CST) of Danvers, MA announced today a joint commercialization partnership with Astellas Pharma, Inc. (Astellas) of Tokyo, Japan focused on the delivery of personalized cancer therapeutics and diagnostics. Under this agreement, CST and Astellas have pooled their respective worldwide intellectual property estates relating to the fusion kinase, EML4-ALK, to enable the commercialization of diagnostic and therapeutic products targeting this cancer enzyme. CST will have the sole rights to exploit these joint intellectual property estates in the field of human medical diagnostics worldwide. Astellas will have the sole rights to exploit these joint intellectual property rights in the field of human therapeutics worldwide.
CST, a leader in the development and manufacture of high performance antibody products for the medical research and clinical diagnostic markets, discovered the existence of certain variants of EML4-ALK in human cancer and has clinically validated specific antibodies detecting this enzyme in human cancer tissues from its internal Cancer Biomarker Program. "CST is very pleased to see that our focused cancer research efforts and proprietary antibody technology are being applied to the development of next-generation diagnostic and therapeutic products intended to fulfill the promise of personalized cancer medicine. EML4-ALK is currently one of the most promising therapeutic targets for the treatment of non-small cell lung cancer. This agreement with Astellas enables the accelerated development of products targeting EML4-ALK," said Michael J. Comb, Ph.D., CST President and CEO.
About Cell Signaling Technology, Inc.
Cell Signaling Technology, Inc. is dedicated to delivering the world's highest quality antibody products to accelerate progress in biological research and personalized medicine. Through its proprietary monoclonal antibody technology (XMT®) and proteomics technology (PTMScan®), CST continues to be in the forefront of applied systems biology research, leading to increased understanding of biochemical aberrations that underlie important diseases, including cancer. For more information on CST visit www.cellsignal.com.
About Astellas Pharma, Inc.
Astellas Pharma, Inc. is a global pharmaceutical company dedicated to improving the health of people around the world through the provision of innovative and reliable pharmaceuticals. Astellas has approximately 16,000 employees worldwide. The organization is committed to becoming a global category leader in urology, immunology and infectious diseases, neuroscience, DM complications and metabolic diseases, and oncology. For more information on Astellas Pharma, Inc. visit www.astellas.com/en.
For more information please contact:
Fenel M. Eloi, M.B.A.
Cell Signaling Technology, Inc.
Chief Operating Officer
phone: 978-867-2313
email: feloi@cellsignal.com