Home
> Keyword(s): C-Myc
Show Hidden Content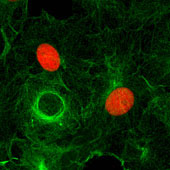 Myc/Max/Mad
Members of the Myc/Max/Mad network function as transcriptional regulators with roles in various aspects of cell behavior including proliferation, differentiation and apoptosis. These proteins share a common basic-helix-loop-helix leucine zipper (bHLH-ZIP) motif required for dimerization and DNA-binding. Listed below are CST products for Myc/Max/Mad research including:
Antibodies specific to c-Myc, n-Myc, and Myc-Tag.
Antibody Sampler Kits.
SignalSilence® siRNA.
---
No
Product Name
Application
Reactivity
13987
c-Myc (D3N8F) Rabbit mAb

H, M, R, Mk

5605
c-Myc (D84C12) Rabbit mAb

H, M, R

9402
c-Myc Antibody

H, M, R

14819
c-Myc (D84C12) Rabbit mAb (PE Conjugate)

H, M, R

14426
c-Myc (D84C12) Rabbit mAb (Pacific Blue™ Conjugate)

H, M, R

13871
c-Myc (D84C12) Rabbit mAb (Alexa Fluor® 647 Conjugate)

H, M, R

12855
c-Myc (D84C12) Rabbit mAb (Alexa Fluor® 488 Conjugate)

H, M, R

45449
PathScan® Total c-Myc Chemiluminescent Sandwich ELISA Kit

H

14905
SimpleChIP® Human c-Myc Intron 1 Primers

H

13748
Phospho-c-Myc (Ser62) (E1J4K) Rabbit mAb

H, M, R

6341
SignalSilence® c-Myc siRNA I

H

6552
SignalSilence® c-Myc siRNA II

H

13410
Enolase-1 (D2S1A) Rabbit mAb

H, M, R, Mk

9092
StemLight™ iPS Cell Reprogramming Antibody Kit

9328
c-Oncogene Antibody Sampler Kit

8655
Wnt/β-Catenin Activated Targets Antibody Sampler Kit

3810
Enolase-1 Antibody

H, M, R, Mk

12866
Glycolysis II Antibody Sampler Kit
---