Home
> Keyword(s): P-Stat3%20(Tyr705)
Show Hidden Content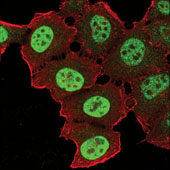 Stat3
The Stat3 transcription factor is an important signaling molecule for many cytokines and growth factor receptors and is required for murine fetal development. Research studies have shown that Stat3 is constitutively activated in a number of human tumors and possesses oncogenic potential and anti-apoptotic activities. Listed below are CST products for Stat3 research including:
Total Protein and Modification Specific Antibodies.
Antibody Sampler Kits, and PathScan® ELISA Kits and Antibody Pairs.
Control Cell Extracts, SignalSlide® IHC Controls, and Blocking Peptides.
SignalSilence® siRNA.
---
No
Product Name
Application
Reactivity
9145
Phospho-Stat3 (Tyr705) (D3A7) XP® Rabbit mAb

H, M, R, Mk
---