Technical Support
Our scientists are at the bench daily to produce and validate our antibodies, so they have hands-on experience and knowledge of each antibody's performance.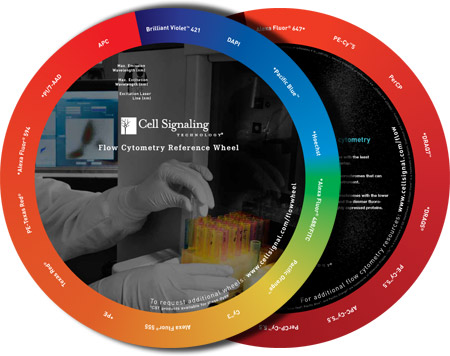 Launch the interactive flow color wheel!
Cell Signaling Technology (CST) provides antibodies that have undergone rigorous validation by our in-house Flow Cytometry group – our goal is to provide our customers with the most specific antibodies, brightest signal and lowest background possible. CST also offers Alexa Fluor ® conjugates and other conjugates that are optimized for flow cytometry. These antibodies provide investigators with new approaches to apply flow cytometry as a platform for the analysis of mechanisms underlying diseases, the identification of biomarkers and drug discovery.
Our rigorous validation protocols help us provide specific and reliable antibodies, allowing you to generate reproducible and meaningful data every time.
Validation: Our antibodies are recommended at optimal dilutions using specific buffers and protocols. This data is generated through extensive testing of appropriate model systems or experimental conditions.
Protocols: We offer detailed protocols so that you can start your experiments quickly and minimize time and reagent waste.
Technical Support: Our knowledgeable technical support scientists are a phone call or email away, so you have a partner at the bench.
We offer a comprehensive list of companion products that are validated in-house with our protocols so that you can get the reagents you need to complete your experiment.
Companion Products for Flow Cytometry:
Highly Sensitive and Specific Antibodies – allow detection of endogenous levels of FoxP3.
Validated for Flow Cytometry – enables detection of human and mouse FoxP3 using the most relevant application for this target.
Fixation and Permeabilization Performed Using Standard Lab Reagents – means you don't need to purchase expensive, proprietary buffers or permeabilization kits.
Easy-to-use Protocol – ensures that you get the expected results in the shortest possible amount of time.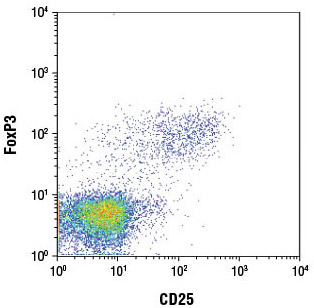 Flow cytometric analysis of murine spleen lymphocytes using a CD25 antibody and FoxP3 (D6O8R) XP® Rabbit mAb #12653. Anti-rabbit IgG (H+L), (F(ab')2 ) Fragment (Alexa Fluor® 488 Conjugate) #4412 was used as a secondary antibody. Analysis was performed on a gated CD4+ T cell population.

Human whole blood was fixed, lysed, and permeabilized as per the Cell Signaling Technology Flow Alternate Protocol and stained using Btk (D3H5) Rabbit mAb #8547. Samples were co-stained using CD3-PE and CD19-APC to distinguish T and B cell subpopulations, respectively. B (red) and T (blue) cell population gates were applied to a histogram depicting the mean fluorescence intensity of Btk. Anti-rabbit IgG (H+L), F(ab')2 Fragment (Alexa Fluor® 488 Conjugate) #4412 was used as a secondary antibody.
CyTOF® mass cytometry single cell proteomics platform uses metal conjugated antibodies to simultaneously profile over 30 proteins within a single cell.
Cell Signaling Technology (CST) offers a diverse portfolio of thoroughly validated flow cytometry antibodies in PBS formulation, suitable for use with the CyTOF® mass cytometer.
PBS-formulated CST™ antibodies are ideal for conjugating to metals for use with the CyTOF® instrument.
High concentration antibody formulations (> 1mg/ml) yield improved conjugation success.
Choose from hundreds of flow cytometry validated CST™ antibodies.