CST Antibody Validation Principles
Technical Support
Our scientists are at the bench daily to produce and validate our antibodies, so they have hands-on experience and knowledge of each antibody's performance.
The CST method of generating and producing validated antibodies.
Specificity + Sensitivity + Reproducibility = CST Validation
Recent reports suggest there are an increasing number of high-impact research studies that cannot be replicated by other scientists. These reports have raised concerns about incorrectly or insufficiently characterized antibodies. At CST, our scientists follow a stringent testing process that involves a combination of assays to provide you with a highly specific and thoroughly validated antibody.
Verifying Specificity, Sensitivity, and Reproducibility
Analysis of a large panel of cell lines with known target expression levels
Treatment of cells with appropriate kinase-specific activators and/or inhibitors
Phosphatase treatment
Correct subcellular localization or treatment-induced translocation
Comparison of results with antibody and isotype control to ensure acceptable signal-to-background ratio
Target-specific signal verified in transfected cells, knockout cells, or siRNA-treated cells
Blocking with antigen peptide to confirm elimination of specific signal
Side-by-side comparison of a new lot with previous lots to ensure lot-to-lot consistency
Identifying Optimal Conditions
Optimal dilutions and buffers predetermined
Positive and negative control cell extracts specified
Detailed protocols already optimized
Side-by-side comparison of lots to ensures lot-to-lot consistency.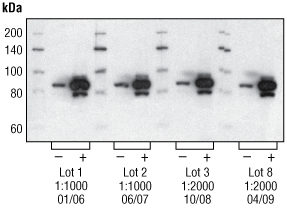 Western blot analysis of HeLa cells, untreated or treated with IFN-α, comparing lots 1, 2, 3 and 8 of Phospho-Stat3 (Tyr705) (D3A7) XP® Rabbit mAb #9145. Note: Signal remains consistent from lot to lot. (Recommended dilution for western blot was changed to 1:2000 with release of lot 3.)
Lot 1: Jan, 2006
Lot 2: Jun, 2007
Lot 3: Oct, 2008
Lot 8: Apr, 2009
Comparison of signal to isotype control is used to estimate the nonspecific binding of primary antibodies.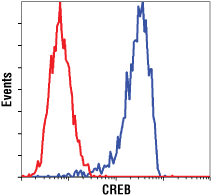 Rabbit (DA1E) mAb IgG XP® Isotype Control #3900: Flow cytometric analysis of SH-SY5Y cells using CREB (D76D11) Rabbit mAb Antibody #4820 (blue) compared to concentration matched #3900 (red).
Antibody performance is assessed in relevant mouse models of cancer.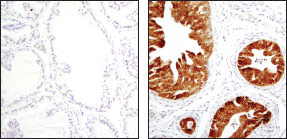 Phospho-Akt (Ser473) (D9E) XP® Rabbit mAb #4060: IHC analysis of paraffin-embedded WT (left) and PTEN (-/-) (right) mouse prostate using #4060. Tissue courtesy of Dr. David Guertin, The Whitehead Institute for Biomedical Research, Cambridge, MA.