Antibody Validation Principles
Technical Support
Our scientists are at the bench daily to produce and validate our antibodies, so they have hands-on experience and knowledge of each antibody's performance.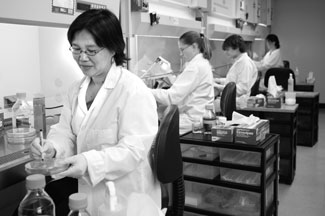 What does Antibody Validation Mean at Cell Signaling Technology®?
Scientists at Cell Signaling Technology® (CST) follow stringent Validation processes, using a combination of several approaches and applications, to provide you with the highly specific and thoroughly tested antibodies. This ensures credible and reproducible results with the least expenditure of your valuable time, samples, and reagents.
Cell Signaling Technology® Antibody Validation
CST tests all of our antibodies in a number of applications. We only recommend an application if the antibody has been validated in-house and meets our strict validation standards for that application.
W

IP

IHC

IF

F

ChIP
Verifying Specificity And Reproducibility ensure that the antibody performs in the recommended applications.
Analysis of a large panel of cell lines with known target expression levels confirms target specificity
Treatment of cells with appropriate kinase-specific activators and/or inhibitors verifies specificity
Phosphatase treatment verifies phospho-specificity
Correct subcellular localization or treatment-induced translocation verifies target specificity
Comparison of results with antibody and isotype control ensures acceptable signal-to-background ratio
Target-specific signal verified in transfected cells, knockout cells, or siRNA-treated cells
Blocking with antigen peptide confirms elimination of specific signal
Side-by-side comparison of a new lot with previous lots ensures lot-to-lot consistency
Identifying Optimal Conditions saves your precious time, samples and reagents.
Optimal dilutions and buffers predetermined
Positive and negative control cell extracts specified
Detailed protocols already optimized
Side-by-side comparison of lots to ensures lot-to-lot consistency.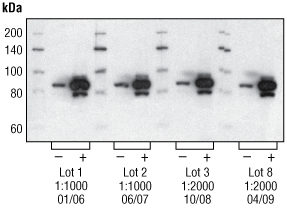 Western blot analysis of HeLa cells, untreated or treated with IFN-α, comparing lots 1, 2, 3 and 8 of Phospho-Stat3 (Tyr705) (D3A7) XP® Rabbit mAb #9145. Note: Signal remains consistent from lot to lot. (Recommended dilution for western blot was changed to 1:2000 with release of lot 3.)
Lot 1: Jan, 2006
Lot 2: Jun, 2007
Lot 3: Oct, 2008
Lot 8: Apr, 2009
Comparison of signal to isotype control is used to estimate the nonspecific binding of primary antibodies.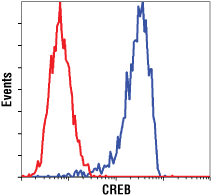 Rabbit (DA1E) mAb IgG XP® Isotype Control #3900: Flow cytometric analysis of SH-SY5Y cells using CREB (D76D11) Rabbit mAb Antibody #4820 (blue) compared to concentration matched #3900 (red).
Antibody performance is assessed in relevant mouse models of cancer.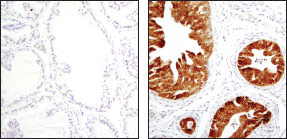 Phospho-Akt (Ser473) (D9E) XP® Rabbit mAb #4060: IHC analysis of paraffin-embedded WT (left) and PTEN (-/-) (right) mouse prostate using #4060. Tissue courtesy of Dr. David Guertin, The Whitehead Institute for Biomedical Research, Cambridge, MA.