PTMScan® Motif Antibody Kits
New Format-Same Price
Now 10 Assays Per Kit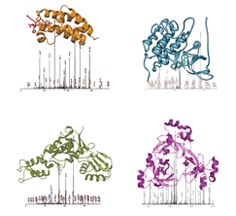 Post-translational modifications (PTMs), such as phosphorylation, acetylation, methylation, or ubiquitination, are critical regulators of protein activity and function. Understanding the role of PTMs in disease states like cancer and developing therapeutics to combat their decoupled regulation are areas of intense research. However, researchers who study PTMs are challenged by the fact that PTMs often exist at very low levels and are difficult to identify from native samples.
Cell Signaling Technology (CST) has developed a proprietary proteomic method, PTMScan® Technology, that overcomes this challenge by using immunoaffinity enrichment to isolate specific modifications of interest from a protease-digested cell or tissue extract. PTMScan Technology utilizes the specificity of motif antibodies to remove a majority of the contaminating endogenous peptides and enable identification of thousands of post-translationally modified peptides of interest by LCMS techniques. This approach can identify modified proteins that may be missed without this enrichment strategy.
Focused discovery of phosphosites based on amino acid (S/T/Y) or motif of interest
Increased coverage of lower occurring phosphorylation events compared to IMAC
View data showing complementarity between antibody enrichment and IMAC
PTMScan Discovery services are ideally suited for discovering new substrates of phosphorylation (PhosphoScan®), acetylation (AceytlScan®), methylation (MethylScan®) or ubiquitination (UbiScan®) in response to disease states or drug treatments. CST scientists will perform the entire process for you, including peptide enrichment and LCMS analysis.
When a specific group of targets has been identified, our PTMScan Direct services are useful for conducting multiplex assays to monitor hundreds of known, specified nodes in critical signaling pathways to facilitate drug discovery research efforts or to help identify biomarkers for translational research.
For researchers who can perform their own enrichment and LCMS analysis in-house, PTMScan Motif Antibody Kits provide the CST motif antibody reagents, protocols and limited use license needed to discover new substrates of specific post-translational modifications.