PTMScan® Videos and Webinars
PTMScan® Motif Antibody Kits
New Format-Same Price
Now 10 Assays Per Kit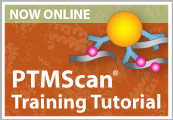 PTMScan® Proteomics of Post-translational Modifications
Learn more about how PTMScan® Proteomics Technology can advance your research by watching this tutorial video that outlines how this proprietary technology can be used in research studies to isolate and identify peptides containing post-translational modifications. This video also contains a specific example of how PTMScan® Technology enabled a recent publication in Science Signaling.
During this webinar, viewers will:
Learn about post-translational modifications and their role in cellular signaling.
Discover how antibody-based proteomics approaches can be applied to identify, study, and characterize known and novel modifications.
Hear specific examples of how these approaches are being applied to the dissection of cellular signaling pathways, target identification, validation, and biomarker discovery by industry and academic experts.