US Project Grants
US Academic Project Grants for PTMScan® Discovery.
Technical Support
Our scientists are at the bench daily to produce and validate our antibodies, so they have hands-on experience and knowledge of each antibody's performance.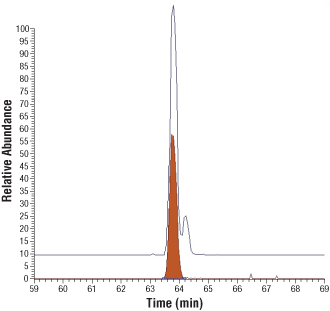 AQUA peptides as identity standards for post-translational modifications. Upper trace, extracted ion chromatogram for tryptic peptides from the activation loop of Met protein kinase, corresponding to phosphorylation of Tyr-1234 (earlier eluting peak) and Tyr-1235 (later eluting peak). Lower trace, extracted ion chromatogram for the Tyr-1234 AQUA peptide. Co-elution confirms the earlier eluting peak is the peptide phosphorylated at Tyr-1234.
AQUA Peptide Customer Inquiries:
Cell Signaling Technology Sales:
phone: 877-616-2355
email: CST_Sales@cellsignal.com.
Cell Signaling Technology (CST) offers custom synthesized, isotope-labeled AQUA peptides for validating and quantifying protein markers and post-translational modifications. AQUA peptides enable classic isotope dilution strategies – the gold standard of quantitative mass spectrometry – for the analysis of protein and post-translational modification markers. We specialize in high-quality custom AQUA peptide synthesis, including challenging sequences and unusual post-translational modifications. We have many hundreds of synthetic AQUA peptides in stock, and turn-around on new AQUA peptide synthesis and quality control is approximately 4 – 6 weeks.
Each synthetic AQUA peptide is designed to be identical in sequence to cellular peptides generated by protease digestion of a protein extract and to contain at least one amino acid residue with the stable isotopes C13 and N15 in place of C12 and N14. AQUA peptides have the same properties as their biologically derived counterparts except their masses are slightly higher. When added to a biological sample, AQUA peptides will fractionate with their corresponding endogenous partner peptides. Only in the mass spectrometer will the mass difference between the endogenous ("light") peptide and synthetic AQUA ("heavy") peptide result in separation.
CST scientists helped launch the AQUA peptide technology (Gerber SA, Rush J, Stemman O, Kirschner MW, Gygi SP (2003) Absolute quantification of proteins and phosphoproteins from cell lysates by tandem MS. Proc. Natl. Acad. Sci. U.S.A. 100(12), 6940–5.). We and many other researchers use AQUA peptides routinely to confirm and validate novel post-translational modification sites. The co-elution in liquid chromatography (LC) of an AQUA peptide standard and a biological peptide is compelling evidence that the biological peptide sequence, including the location of post-translational modification sites, has been assigned correctly. In addition, AQUA peptide LC peak area provides a means of quantitatively measuring the absolute or relative amounts of an endogenous peptide and post-translational modification sites.
AQUA peptides are designed based on the amino acid sequence of proteolytic digestion remnants of cellular proteins. Trypsin digestion products are typically used in AQUA peptide design. AQUA peptides can be unmodified or can contain common post-translational modifications such as phosphorylation, acetylation, methylation, and ubiquitination.
AQUA peptides are usually synthesized to incorporate C13 and N15 into Leu, Pro, Val, Phe, or Tyr residues. We can recommend the optimal labeling strategy for your project.
All AQUA peptides are purified by reversed-phase LC and stocks are quantified rigorously by amino acid analysis.
Please contact us for pricing information, large volume discounts are available.
Gerber SA, Kettenbach AN, Rush J, Gygi SP (2007) The absolute quantification strategy: application to phosphorylation profiling of human separase serine 1126. Methods Mol. Biol. 359, 71–86.
Gerber SA, Rush J, Stemman O, Kirschner MW, Gygi SP (2003) Absolute quantification of proteins and phosphoproteins from cell lysates by tandem MS. Proc. Natl. Acad. Sci. U.S.A. 100(12), 6940–5.
Kirkpatrick DS, Hathaway NA, Hanna J, Elsasser S, Rush J, Finley D, King RW, Gygi SP (2006) Quantitative analysis of in vitro ubiquitinated cyclin B1 reveals complex chain topology. Nat. Cell Biol. 8(7), 700–10.
I. NOTICE to NOT-FOR-PROFIT or ACADEMIC PURCHASER
Purchase of this peptide product includes a license to use this product in the practice of methods described in United States Patent Application Ser. No. 60/312,279 and PCT US02/25778 (Gygi et al., Harvard University; PROTEIN-AQUA™ methodology/technology) for research purposes only, and the purchase price includes an allowance for payment to Harvard University of its standard royalty for such license. Licenses for the practice of the methods for other non-research purposes may be sought directly from the owner of the technology:
Harvard University
Office of Technology Licensing
Building A, Room 414
25 Shattuck Street
Boston, MA 02115
II. NOTICE to FOR-PROFIT PURCHASER
The purchase of this peptide product does not include a license to use this product in the practice of methods described in United States Patent Application Ser. No. 60/312,279 and PCT US02/25778 (Gygi et al., Harvard University; PROTEIN-AQUA™ methodology/technology). Licenses for the practice of such methods must be sought directly from the owner of the technology:
Harvard University
Office of Technology Licensing
Building A, Room 414
25 Shattuck Street
Boston, MA 02115