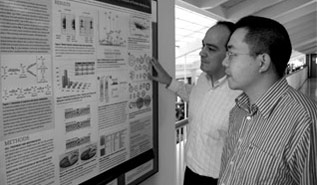 Information for Industry
An antibody shouldn't be one of the variables in your experiment. Whether it's knowing starting concentrations, target specificity or lot-to-lot consistency, CST rigorously test every antibody, every lot – so you don't have to. Our industry customers, from pharma and biotech to CROs, count on us every day to help reduce the risk of wasting precious samples on non-specific, insensitive antibodies.
In fact, an independent survey1 showed that CST is ranked highest by customers on both specificity (performance validation) and sensitivity. We invite you to examine our testing data so you have a clearer sense why CST has earned the trust of fellow scientists.
Why should I trust CST?
Our bench to yours: CST is a scientist-led, private company that invests heavily in research and development. Like you, our scientists have exacting standards, so our antibodies have to be exceptionally specific and sensitive.
In-house development: 99% of our portfolio of antibodies are developed in-house. That means you have 98% next day product availability, knowledgeable support by production scientists, and count on lot-to-lot consistency. Need to reserve a lot for longitudinal experiments? Not a problem.
Application validation: CST doesn't stop our validation testing after we get a clean Western blot. Whether it's IF, Flow, ChIP, IHC or ELISAs – if we say it's approved for the application, we've validated it! And if the application protocol needs to be tweaked for that specific antibody, we do the work and provide the details.
Lot-to-lot consistency: Every lot is validated in biologically relevant systems by CST production scientists who understand which cell lines or tissues, growth factors, cytokines or chemical activators/inhibitors are appropriate to the specific target protein. From the first lot to the last, we measure and track antibody performance and continue to stay current on how our customers are using our antibodies in experiments.
Antibody Report Market Overview and Industry Survey (2013) Biocompare Surveys and Reports, June, 11.