Purchasing Manager Webinar

Listen to the webinar recording that reviews the new site functionality for Purchasing Managers.
Ask Us a Question
The same CST scientists who produced and validated your antibody for multiple applications also provide technical support.
James, CST Product Scientist, with CST since 2011, and Alexandra, CST Production Associate, with CST since 2009.
Tell Us How We're Doing
We welcome your feedback about our products, resources, or our new website.
Same CST. New Website.
Designed in close collaboration with CST scientists, our new site has been reengineered to help accelerate your research and discovery. We've aggregated the most relevant information—from validation data to publication citations—into an intuitive, streamlined design to make it faster and easier to determine which antibodies and companion products fit your needs. And we've kept what our customers like the most about CST: products they trust, backed by extensive scientific data and the support of knowledgeable CST scientists.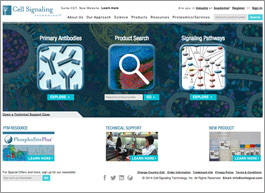 New Features
Seamlessly integrated scientific resources for your research area or target of interest.
Our extensive protocol library
Classic pathway diagrams
Cellular landscapes
PhosphoSitePlus® integration
Find your pathway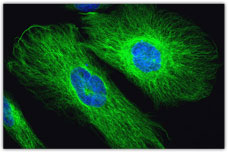 Interactive product listing dashboard to help you quickly find the right product for your research.
Validation and application data for every antibody
Scientific and technical resource tabs
Additional data images accessible via the listing dashboard
Find your product
Robust 'My Account' features for transparent team communications and fast, easy checkouts.
Our Lab Notebook offers storage for data sheets and protocols from your past purchases
Shared shopping cart functionality
Automated email updates for cart reviews, checkouts, and order tracking
If you have an account, it has already been integrated into our new site
Visit Your Account
Simplified Navigation