Show Hidden Content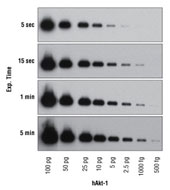 WB & IP Companion Products
Experience more successful western blotting with protocols and reagents optimized to work with your antibodies and targets. CST companion products are available to support every step of your western blot or IP experiment, from cell lysis to detection reagents.
Explore our Western Blotting Resources  
Featured Image: SignalFire™ Elite ECL Reagent #12757.
No.
Product Name
Application
Reactivity
14138
Twinfilin-1 (D7C6J) Rabbit mAb

H, M, R, Mk

8461
Twinfilin-1 Antibody

H, M, R, Mk

13978
MDR1/ABCB1 (E1Y7S) Rabbit mAb

H, M, R

13342
MDR1/ABCB1 (E1Y7B) Rabbit mAb

H

12683
MDR1/ABCB1 (D3H1Q) Rabbit mAb

H

14198
MRP1/ABCC1 Antibody

H

14182
MRP3/ABCC3 (D1W1P) Rabbit mAb

H

12857
MRP4/ABCC4 (D1Z3W) Rabbit mAb

H, M, R

12705
MRP4/ABCC4 (D2Q2O) Rabbit mAb

H, M, Mk

4477
ABCG2 Antibody

H, M, R

4664
ABIN-1 Antibody

H, M, R

3009
Phospho-c-Abl (Tyr204) (C42B5) Rabbit mAb

H

2861
Phospho-c-Abl (Tyr245) Antibody

H

2868
Phospho-c-Abl (Tyr245) (73E5) Rabbit mAb

H

2864
Phospho-c-Abl (Thr735) Antibody

H

3098
Phospho-c-Abl (Tyr89) (61A6) Rabbit mAb

H

2865
Phospho-c-Abl (Tyr412) (247C7) Rabbit mAb

H

2862
c-Abl Antibody

H, M, R

9796
ACAD9 Antibody

H, M, R, Mk

13294
ACAT2 (E1L8V) Rabbit mAb

H, Mk

14667
TPP1 (D4E2R) Rabbit mAb

H, Mk

4355
ACE2 Antibody

H

3661
Phospho-Acetyl-CoA Carboxylase (Ser79) Antibody

H, M, R, Mk

11818
Phospho-Acetyl-CoA Carboxylase (Ser79) (D7D11) Rabbit mAb

H, M

3676
Acetyl-CoA Carboxylase (C83B10) Rabbit mAb

H, M, R, Hm

8578
Acetyl-CoA Carboxylase 2 (D5B9) Rabbit mAb

H

3662
Acetyl-CoA Carboxylase Antibody

H, M, R, Mk, B

4190
Acetyl-CoA Carboxylase 1 Antibody

H, M, R

3658
AceCS1 (D19C6) Rabbit mAb

H, M, R, Mk

4934
Acinus Antibody

H, M, R, Mk