Show Hidden Content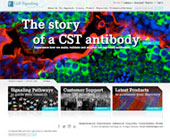 Same CST. New Website.
Visit our new site help page to learn about the new site features:
Seamlessly integrated scientific resources for your research area or target interest.
Interactive product listing dashboard to help you quickly find the right product for your research.
Robust "My Account" features for transparent team communications and fast, easy checkouts.
| No. | Product Name | Application | Reactivity |
| --- | --- | --- | --- |
| 9601 | Phospho-(Ser) 14-3-3 Binding Motif Antibody | | H, M, R, All |
| 9606 | Phospho-(Ser) 14-3-3 Binding Motif (4E2) Mouse mAb | | H, All |
| 8312 | 14-3-3 (pan) Antibody | | H, M, R, Mk, B, Pg |
| 9769 | 14-3-3 Family Antibody Sampler Kit | | |
| 9638 | 14-3-3 τ Antibody | | H, M, R, Mk |
| 5522 | 14-3-3 γ (D15B7) Rabbit mAb | | H, M, R, Mk, Pg |
| 9636 | 14-3-3 β/α Antibody | | H, M, R, Mk |
| 9635 | 14-3-3 ε Antibody | | H, M, R, Mk |
| 9640 | 14-3-3 η Antibody | | H, M, R, Mk |
| 5521 | 14-3-3 η (D23B7) Rabbit mAb | | H, M, R, Mk, B, Pg |
| 7413 | 14-3-3 ζ/δ (D7H5) Rabbit mAb | | H, M, R, Mk, Pg |
| 9955 | 4E-BP Antibody Sampler Kit | | |
| 13443 | Phospho-4E-BP1 (Ser65) (D9G1Q) Rabbit mAb | | H, Mk |
| 9451 | Phospho-4E-BP1 (Ser65) Antibody | | H, M, R, Mk |
| 9459 | Phospho-4E-BP1 (Thr37/46) Antibody | | H, M, R, Mk |
| 2855 | Phospho-4E-BP1 (Thr37/46) (236B4) Rabbit mAb | | H, M, R, Mk, Dm |
| 9456 | Phospho-4E-BP1 (Ser65) (174A9) Rabbit mAb | | H, Mk |
| 9862 | mTOR Substrates Antibody Sampler Kit | | |
| 9918 | Translational Control Antibody Sampler Kit | | |
| 13396 | Phospho-4E-BP1 (Thr70) (D7F6I) Rabbit mAb | | H, Mk |
| 9455 | Phospho-4E-BP1 (Thr70) Antibody | | H, M, R, Mk |
| 9644 | 4E-BP1 (53H11) Rabbit mAb | | H, M, R, Mk |
| 9452 | 4E-BP1 Antibody | | H, M, R, Mk |
| 4923 | Non-phospho-4E-BP1 (Thr46) (87D12) Rabbit mAb | | H, M, R, Mk |
| 2845 | 4E-BP2 Antibody | | H, M, R, Mk, B |
| 6916 | 4EHP (D54C2) Rabbit mAb | | H |
| 2297 | 4E-T Antibody | | H |
| 3428 | Phospho-53BP1 (Thr543) Antibody | | H |
| 2675 | Phospho-53BP1 (Ser1778) Antibody | | H, Mk |
| 6209 | Phospho-53BP1 (Ser1618) (D4H11) Rabbit mAb | | H, R |