Show Hidden Content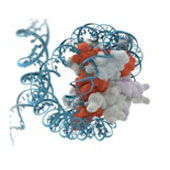 ChIP Companion Products
Companion products from Cell Signaling Technology are the same reagents used by our scientists when validating our primary antibodies, so we have the experience to support every step of your Chromatin IP (ChIP) analysis. These products are thoroughly validated and work optimally with our primary antibodies and protocols, so you obtain reproducible and publishable results in the least amount of time.
SimpleChIP® Control PCR Primers
ChIP-grade beads
Magnetic Seperation Rack
Show Hidden Content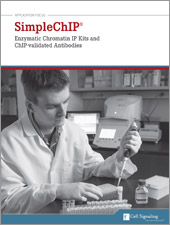 SimpleChIP® Enzymatic Chromatin IP Kits and ChIP-validated Antibodies brochure describes the principles behind a successful ChIP protocol and explains how SimpleChIP® kits and CST ChIP-validated antibodies can help you achieve reliable, consistent results from your ChIP experiment.
No.
Product Name
Application
Reactivity
9441
Acetylated-Lysine Antibody

H, M, R, Sc, All

9814
Acetylated-Lysine (Ac-K2-100) Rabbit mAb

H, M, Mk, All

8486
RUNX2 (D1H7) Rabbit mAb

H, M, R, Mk

12556
RUNX2 (D1L7F) Rabbit mAb

H, M, R

11815
ATF-4 (D4B8) Rabbit mAb

H, M, R

12120
Bcl-11B (D6F1) XP® Rabbit mAb

H

5650
BCL6 (D65C10) Rabbit mAb

H, M

14020
BMAL1 (D2L7G) Rabbit mAb

H, M, R

6964
Bmi1 (D20B7) XP® Rabbit mAb

H, Mk

5856
Bmi1 (D42B3) Rabbit mAb

H, M, R, Mk

13440
BRD4 (E2A7X) Rabbit mAb

H

11974
RNF20 (D6E10) XP® Rabbit mAb

H, M, R, Mk

11966
BRM (D9E8B) XP® Rabbit mAb

H, Mk

8480
β-Catenin (D10A8) XP® Rabbit mAb

H, M, R, Mk

8814
Non-phospho (Active) β-Catenin (Ser33/37/Thr41) (D13A1) Rabbit mAb

H, M, R, Mk

9587
β-Catenin Antibody (Carboxy-terminal Antigen)

H, M, R, Mk

9581
β-Catenin Antibody (Amino-terminal Antigen)

H, M, R, Mk

4771
Acetyl-CBP (Lys1535)/p300 (Lys1499) Antibody

H, M, Mk

7425
CBP (D9B6) Rabbit mAb

H, M, R, Mk

7389
CBP (D6C5) Rabbit mAb

H, M, R, Mk

4351
CHD1 (D8C2) Rabbit mAb

H, M, R, Mk

9198
Phospho-CREB (Ser133) (87G3) Rabbit mAb

H, M, R

9197
CREB (48H2) Rabbit mAb

H, M, R, Mk, Dm

4820
CREB (D76D11) Rabbit mAb

H, M, R, Hm, Mk, Dm

3418
CTCF (D31H2) XP® Rabbit mAb

H, M, R, Mk

3417
CTCF (D1A7) XP® Rabbit mAb

H, R, Mk

2899
CTCF Antibody

H, M, R, Mk

3742
E2F-1 Antibody

H

14159
EAF2 (E1R8C) Rabbit mAb

H

4153
EGR1 (15F7) Rabbit mAb

H, M, R