Summer Internship Program
Gain hands-on experience at the bench or in other aspects of business. Learn valuable technical skills from our knowledgeable CST scientists and business leaders. View our Application for Internship.
Upcoming Events
Come visit Cell Signaling Technology (CST) at one of the upcoming conferences or vendor shows we are attending. Please stop by the CST booth to meet with one of our scientists, learn about new products, pick up some reference material or simply stop by to say hello.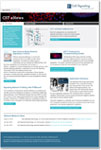 News from the Bench
Discover what's going on at CST, receive our latest application notes, science features, and more.
Research Associate – Immunofluorescence
Danvers, MA
We are currently seeking a highly motivated and detail-oriented individual for a Research Associate position within the Cytometry Group. The candidate will contribute to the innovation, development, and support of research tools, with a primary focus on evaluating antibodies by fluorescence microscopy.
Responsibilities
Analyze antibody performance in cell and tissue-based imaging assays. Techniques include both high-throughput, plate-based imaging, as well as low-throughput, high-resolution microscopy.
Collaborate with project scientists and survey recent literature to design and execute experiments that demonstrate antibody specificity in relevant cell/tissue models.
Mammalian cell culture and tissue processing (including frozen and paraffin-embedded samples).
Develop and optimize staining protocols for new antibody targets.
Independently perform standard qualitative and quantitative data analyses, and communicate results to senior scientists.
Identify, analyze and troubleshoot technical issues relating to development and quality control. This includes both internal and external, customer-facing communications.
Must complete scientific and technical tasks on aggressive timelines, adapt to changing priorities, and manage a complex and varied target pipeline.
Qualifications
BA, BS or MS degree in a biological science (e.g., molecular biology, biochemistry, or biotechnology).
1-2 years of post-graduate laboratory experience preferred.
Enthusiastic and motivated collaborator with strong interpersonal skills.
Good communication skills (written and oral) and the ability to work in a multidisciplinary team environment are essential.
Excel-based data management skills are required, and candidates with a background in computer science, robotics, or lab automation will be strongly preferred.
Previous experience with confocal microscopy, spectral imaging, immunofluorescence, immunohistochemistry, and/or HTS/HCS techniques is strongly preferred.
Knowledge of signal transduction, cell culture, and tissue processing techniques is preferred.
Strong organization skills are a must.
You will be taken to an external website, please attach your cover letter and resume as one document and refer to job code RAIF-2016-2-R when applying.