Summer Internship Program
Gain hands-on experience at the bench or in other aspects of business. Learn valuable technical skills from our knowledgeable CST scientists and business leaders. View our Application for Internship.
Upcoming Events
Come visit Cell Signaling Technology (CST) at one of the upcoming conferences or vendor shows we are attending. Please stop by the CST booth to meet with one of our scientists, learn about new products, pick up some reference material or simply stop by to say hello.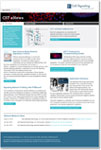 News from the Bench
Discover what's going on at CST, receive our latest application notes, science features, and more.
Packaging Associate
Beverly, MA
Cell Signaling Technology, Inc. (CST) is a worldwide leader in the development and commercialization of antibodies, assays and research tools. As a company of scientists for scientists, we have developed PTMScan®, a technology to discover protein post-translational modifications, PhosphoSitePlus®, an online resource for investigation of post-translational modifications, and XMT® technology, a proprietary method to develop exceptional monoclonal antibodies. We are fully committed to developing new research tools to help define the mechanisms underlying cell function and disease, thereby broadly accelerating progress in biomedical research and medicine.
We are seeking a talented and highly motivated team player to join the Production Department as a Packaging Associate. This role is responsible for labeling, inspecting and packaging final products to fulfill customer orders, as well as adhering to strict quality control guidelines. Major techniques involved in this job include precision liquid handling, strict adherence to SOPs, working with labeling and pumping equipment.
Responsibilities:
Labeling, inspecting and packaging final products with manual and/or automated systems
May set-up, change-over and operate labeling and packaging equipment
Enter data and imprint computer generated labels
Maintain accurate records and production area to comply with regulatory requirements, good manufacturing practices and standard operating procedures
Qualifications:
A high school diploma or associates degree
Strong computer skills and experience with inventory systems is ideal
Excellent communication skills, ability to follow detailed directions, organizational skills and a willingness to learn new techniques are preferred
You will be taken to an external website, please attach your cover letter and resume as one document and refer to job code PKGASSOC-2017-R when applying.