Summer Internship Program
Gain hands-on experience at the bench or in other aspects of business. Learn valuable technical skills from our knowledgeable CST scientists and business leaders. View our Application for Internship.
Upcoming Events
Come visit Cell Signaling Technology (CST) at one of the upcoming conferences or vendor shows we are attending. Please stop by the CST booth to meet with one of our scientists, learn about new products, pick up some reference material or simply stop by to say hello.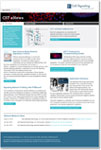 News from the Bench
Discover what's going on at CST, receive our latest application notes, science features, and more.
Front End Developer
Danvers, MA
Cell Signaling Technology, Inc. (CST) is a worldwide leader in the development and commercialization of antibodies, assays and research tools. As a company of scientists for scientists, we have developed PTMScan®, a technology to discover protein post-translational modifications, PhosphoSitePlus®, an online resource for investigation of post-translational modifications, and XMT® technology, a proprietary method to develop exceptional monoclonal antibodies. We are fully committed to developing new research tools to help define the mechanisms underlying cell function and disease, thereby broadly accelerating progress in biomedical research and medicine.
We are seeking an experienced Front End Developer to support Cell Signaling Technology's Commercial Systems team. The Front End Developer will be a key member of the web/eComm and PIM agile teams and will be responsible for developing aesthetically-pleasing and functional designs, building new functionality utilizing rapid prototyping and iterative design methodologies, and documenting JavaScript and HTML/CSS best practices. In addition, the Front End Developer will work collaboratively with Marketing and IT to enhance and optimize the interactive user experience of the web/ecomm platform.
Responsibilities:
Engage with internal customers (Marketing, IT, team stakeholders, and end-users) to optimize existing web based functionality
Able to take a high fidelity mock-up and quickly and efficiently build into a working user interface
Collaborate with the development team, content editors, graphic designers, users, and others to develop clean and intuitive UI application designs
Ensure digital assets managed within CST's PIM system to ensure accurate presentation in multiple channels (web, email, social, or print)
Responsible for production ready, large-scale cross-platform, cross-browser compatible JavaScript-based applications that run in multi-device web browsers
Set and enforce best practices for JavaScript, HTML, Cascading Style Sheets (CSS)
Other duties as assigned
Qualifications:
BS/BA with emphasis in web/graphic design, computer science, related technical field or equivalent work experience required
3+ years' experience in Web and Graphic design, with preferred emphasis in web layout and design; catalog and form layout; and workflow design a plus
Experience with XHTML, HTML, CSS, JavaScript (jQuery), Bootstrap, as well as hands-on experience with content management systems
Experience with REST and SOAP services (with ability to create services preferred)
Experience with version and source control, preferably Git and Github and Jira
Demonstrated proficiency with Responsive Web Design
Knowledgeable in WCAG 2.0 and 508/accessibility guidelines
Experience working in an Agile team structure
Preferred Skills/Experience:
Strong communication and consulting skills that include leading design-related conversations, ideation on project requirements, ability to build and nurture good relationships and foster environments for open, productive collaboration
Ability to layout web pages with well formed HTML code and CSS across all browsers and platforms
DevOps type experience, such as configuring Bamboo builds
Advanced Photoshop skills
Experience with InDesign, Acrobat, MS Excel, Word & Access
Knowledge of relational databases
You will be taken to an external website, please attach your cover letter and resume as one document and refer to job code FEDEV-2016-N when applying.