Summer Internship Program
Gain hands-on experience at the bench or in other aspects of business. Learn valuable technical skills from our knowledgeable CST scientists and business leaders. View our Application for Internship.
Upcoming Events
Come visit Cell Signaling Technology (CST) at one of the upcoming conferences or vendor shows we are attending. Please stop by the CST booth to meet with one of our scientists, learn about new products, pick up some reference material or simply stop by to say hello.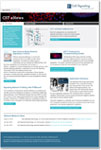 News from the Bench
Discover what's going on at CST, receive our latest application notes, science features, and more.
Director of IT Engineering Services
Danvers, MA
Cell Signaling Technology, Inc. (CST) is a worldwide leader in the development and commercialization of antibodies, assays and research tools. As a company of scientists for scientists, we have developed PTMScan®, a technology to discover protein post-translational modifications, PhosphoSitePlus®, an online resource for investigation of post-translational modifications, and XMT® technology, a proprietary method to develop exceptional monoclonal antibodies. We are fully committed to developing new research tools to help define the mechanisms underlying cell function and disease, thereby broadly accelerating progress in biomedical research and medicine.
We are seeking an Engineering leader with a reputation for building scalable, highly successful software solutions to join our fast-paced, growing technology team. This is a rare opportunity to join a company that is fully embracing a modern technology culture, and we are looking for someone who is driven, resourceful and highly talented to lead the way! This individual will be responsible for working closely with our Product and Business teams to deliver quality releases, and work with stakeholders to translate their vision into an efficient agile organization to achieve the goals.
Responsibilities:
Build high performance teams that build platforms in a highly mature, agile manner
Oversee shared services encompassing: Enterprise Architecture, Data Base Services, Software Engineering, and in the future SQA.
Develop career plans for your team members as well as succession plan for yourself, help people achieve through mastery, purpose and autonomy, mentor and coach, reward and recognize
Remove impediments to allow teams to proceed with building quality software, identify and fix resource gaps, identify appropriate sourcing models to staff project, identify and manage risk throughout an Agile SDLC, and build common vision across your organization
Achieve alignment in product and process direction with Product Management, Architecture, Program Management as well as with your teams
Work with application team stakeholders to ensure the platforms are operating effectively and driving high stakeholder satisfaction
Implement continuous improvement processes for operational excellence including: predictable and efficient delivery of software and systems, clearly defined performance metrics
Set direction and enable teams to build and manage data pipelines that clean, transform and aggregate data from many different sources
Establish clear priorities for engineering services aligned with IT priorities and governance processes
Build and manage IT skill-sets across the domains required to maintain and evolve the platforms through which we deliver information management services
Oversee implementation of data security & governance processes at every step of data acquisition, transformations, reports, dashboards and on-demand data services
Set direction to define frameworks and standards for the implementation of API data pulls/pushes from third party data vendors/platforms
Qualifications:
Bachelor Degree in Computer Science or equivalent
10+ years of experience in leading technical deliveries including: analysis, design, coding, testing, deploying and supporting of data warehouse applications
Experience in managing teams with increased scope over time
Substantial expertise in a programming language such as C#/C++, Perl, Java, Python, and javascript/jQuery
Experience in cloud-based systems and agile development practices
Familiarity with Linux, Big Data, SQL, NOSQL and various other technologies
Experience building high-performance large scale cloud based end-to-end data platforms with agile methodology
Experience building teams to deliver deep working knowledge of data management platforms, relational databases, SQL programming, statistics and mathematics.
Experience using traditional tools (Oracle, Informatica) and newer innovative large scale NoSQL (Cassandra, Spark, Scala, R & reactive web platforms) based solutions
Preferred Skills/Experience:
Excellent understanding of complex problems and experience in identifying best in class solutions for product updates
Ability to identify and build technical strategies for improvement within products
Advanced data-driven approach to problem solving
Ability to innovate and drive both new initiatives and change
Ability to learn and adapt in a fast paced environment, while ensuring quality deliverables
Ability to be an effective team member and display initiative and flexibility to ensure team goal alignment
Demonstrated record of partnering with teams across the organization and influencing to achieve
Demonstrated ability to develop software quality assurance teams in a dynamic environment
You will be taken to an external website, please attach your cover letter and resume as one document and refer to job code DIRENG-2016-N when applying.