Summer Internship Program
Gain hands-on experience at the bench or in other aspects of business. Learn valuable technical skills from our knowledgeable CST scientists and business leaders. View our Application for Internship.
Upcoming Events
Come visit Cell Signaling Technology (CST) at one of the upcoming conferences or vendor shows we are attending. Please stop by the CST booth to meet with one of our scientists, learn about new products, pick up some reference material or simply stop by to say hello.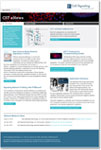 News from the Bench
Discover what's going on at CST, receive our latest application notes, science features, and more.
Director, Computational Biology and Bioinformatics
Danvers, MA
Cell Signaling Technology, Inc. (CST) is a worldwide leader in the development and commercialization of antibodies, assays and research tools. As a company of scientists for scientists, we have developed PTMScan®, a technology to discover protein post-translational modifications, PhosphoSitePlus®, an online resource for investigation of post-translational modifications, and XMT® technology, a proprietary method to develop exceptional monoclonal antibodies. We are fully committed to developing new research tools to help define the mechanisms underlying cell function and disease, thereby broadly accelerating progress in biomedical research and medicine.
The Director will be responsible for the strategic vision, planning and execution of all bioinformatics activities and programs at CST. The Director will lead a bioinformatics and computational biology group with both internally- and externally-facing facets. Among other responsibilities, the Director would help provide strategic leadership of CST's PhosphoSitePlus database of protein sequences and post-translational modifications, and lead efforts involving NGS and proteomics data processing and analysis, leveraging both public and private datasets to meet the needs of all -omics customers, both internal and external. The successful candidate will be service-focused and will collaborate enthusiastically with multiple departments across the organization.
Responsibilities:
Act as subject matter expert on bioinformatics algorithms, statistical analysis, proteomic and genomic data analysis
Lead a team that supports & develops genomic and proteomic data analysis pipelines
Collaborate cross-functionally to ensure adequate service to research and development groups and integration of systems with broader IT network at CST
Direct the development of new tools for integrative analysis of NGS and proteomics data
Explore and implement, as appropriate, new tools for analysis of proteomic data sets
Ensure quality control, and maintain accurate software versioning, etc.
Identify, procure, and analyze external data sets that help to drive the mission of CST
Set strategic direction in the use of application frameworks in support of bioinformatic workflows
Oversee migration to scalable application infrastructure leveraging Amazon AWS
Qualifications:
PhD in Bioinformatics, Computational Biology, Biostatistics, Physics, or equivalent experience
10+ years relevant experience, with 5 years in an industry setting
Minimum of 5 years experience managing other bioinformatics scientists
Significant experience in analysis of large proteomics data sets with track record of publication and/or software development
Experience with analysis of large genomics data sets and integration with proteomics data; RNA-seq, ChIP-seq
Demonstrated fluency in Software Engineering, Application Architecture, open-source frameworks, Python, Matlab, Java
Must have strong computational protein/post-translational modification bioinformatics background
Preferred Skills/Experience:
Deep understanding of biostatistics as relates to large dataset analysis
Experience with de novo peptide sequencing by mass spectrometry
Excellent understanding of proteomics, genomics, and related analysis tools
Demonstrated ability to balance competing priorities
Excellent oral and written communication skills
You will be taken to an external website, please attach your cover letter and resume as one document and refer to job code DIRBIOINF-2016-N when applying.