Home
>
Application: Immunohistochemistry (Frozen)
>
Application: IHC-paraffin
Show Hidden Content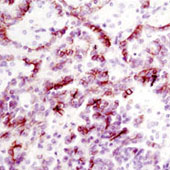 IHC Companion Products
Application solutions for consistently better immunohistochemical analysis. These products are the same reagents used by our scientists when validating our primary antibodies, so we have the experience to support every step of your immunohistochemistry (IHC) experiment.
Detection reagents
Substrate
Diluents
Blocking peptides
Control slides
Isotype controls
Buffers and reagents
Featured Image: SignalStain® Boost IHC Detection Reagent (HRP, Rabbit) #8114.
---
No
Product Name
Application
Reactivity
8107
SignalStain® Akt Pathway IHC Sampler Kit

4685
Akt (pan) (11E7) Rabbit mAb

H, M, R, Mk

75692
Akt1 (D9R8K) Rabbit mAb

H, M, R, Mk

2920
Akt (pan) (40D4) Mouse mAb

H, M, R, Mk

4691
Akt (pan) (C67E7) Rabbit mAb

H, M, R, Mk, Dm

54135
ALDH1A1 (D9Q8E) XP® Rabbit mAb

H

3633
ALK (D5F3®) XP® Rabbit mAb

H

4179
α-Synuclein (D37A6) XP® Rabbit mAb

M, R

4336
AML1 (D33G6) XP® Rabbit mAb

H, Mk

50081
Phospho-AMPKα (Thr172) (D4D6D) Rabbit mAb

H, M, R

2535
Phospho-AMPKα (Thr172) (40H9) Rabbit mAb

H, M, R, Hm, Mk, Dm, Sc

4150
AMPKβ1/2 (57C12) Rabbit mAb

H, M, R, Hm, Mk

3796
α-Amylase (D55H10) XP® Rabbit mAb

H, M, R

5153
Androgen Receptor (D6F11) XP® Rabbit mAb

H

15491
ANP32A (D7Z5U) Rabbit mAb

H

32934
Annexin A1 (D5V2T) XP® Rabbit mAb

H

8235
Annexin A2 (D11G2) Rabbit mAb

H, M, R, Mk, B, Pg

13366
ApoE (pan) (D7I9N) Rabbit mAb

H

2450
APP/β-Amyloid (NAB228) Mouse mAb

H, Mk, B

15126
β-Amyloid (D3D2N) Mouse mAb

H, M

9888
β-Amyloid (D12B2) Rabbit mAb

H, M

14975
β-Amyloid (pE3 Peptide) (D5N5H) Rabbit mAb

H

4832
APS Antibody

H, M

38916
ARC (D7Q3G) Rabbit mAb

H

93668
Arginase-1 (D4E3M™) XP® Rabbit mAb

H, M, R

12354
ARID1A/BAF250A (D2A8U) Rabbit mAb

H, M, R, Mk

14528
Aromatase (D5Q2Y) Rabbit mAb

H

30036
β-Arrestin 1 (D7Z3W) XP® Rabbit mAb

H, M, R

3857
β-Arrestin 2 (C16D9) Rabbit mAb

H, M, R, Mk

2990
ASF1A (C6E10) Rabbit mAb

H, M, Mk
---