Home
>
Product Type: siRNA
Show Hidden Content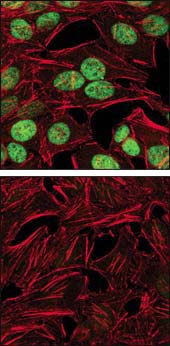 SignalSilence® siRNA Reagents
SignalSilence® siRNA are potent double-stranded RNA molecules that selectively inhibit protein expression in a cell.
Two equally potent siRNAs are available for each target (siRNA I and II)
Fluorescein-labeled non-targeted siRNA control 6201 allows the user to monitor transfection efficiency, while an unconjugated control siRNA 6568 can be used to control for specificity
SignalSilence® siRNA for both human and mouse targets are available
Featured Image: SignalSilence® c-Myc siRNA Confocal immunofluorescent analysis of HeLa cells, transfected with SignalSilence® Control siRNA (Unconjugated) #6568 (top) or transfected with SignalSilence® c-Myc siRNA I #6341 (bottom), using c-Myc (D84C12) XP® Rabbit mAb #5605 (green). Actin filaments have been labeled wth DY-554 phalloidin (red).
---
---