Home
> Keyword(s): Alpha-Tubulin
Show Hidden Content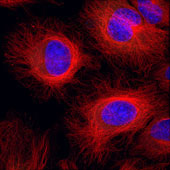 Tubulin
Many cell movements are mediated by the action of microtubules, including the beating of cilia and flagella, cytoplasmic transport of membrane vesicles, chromosome alignment during meiosis/mitosis, and nerve-cell axon migration. Microtubules are composed of globular tubulin subunits: α- and β-tubulin are important structural elements of microtubules, and ϒ-tubulin is important for nucleating and providing polar orientation. Listed below are CST products for tubulin research including:
Antibodies for both Total and Acetylated Tubulin.
Blocking Peptides.
Antibody Sampler Kits and PathScan® ELISA Kits and Antibody Pairs.
---
No
Product Name
Application
Reactivity
2148
α/β-Tubulin Antibody

H, M, R, Mk, Z, B

2125
α-Tubulin (11H10) Rabbit mAb

H, M, R, Mk, Dm, Z, B, Pg

2144
α-Tubulin Antibody

H, M, R, Mk, Dm, B

9099
α-Tubulin (11H10) Rabbit mAb (HRP Conjugate)

H, M, R, Mk, Dm, Z, B, Pg

4285
α-Tubulin (11H10) Rabbit mAb (Biotinylated)

H, M, R, Mk, Dm, Z, B, Pg

5059
α-Tubulin (11H10) Rabbit mAb (Alexa Fluor® 555 Conjugate)

H, M, R, Mk, Dm, Z, B, Pg

7204
PathScan® Acetyl-α-Tubulin Sandwich ELISA Kit

H, M, Mk

4670
Loading Control Antibody Sampler Kit (HRP Conjugate)

5335
Acetyl-α-Tubulin (Lys40) (D20G3) XP® Rabbit mAb

H, M, R, Mk, Z

81502
Acetyl-α-Tubulin (Lys40) (D20G3) XP® Rabbit mAb (Alexa Fluor® 647 Conjugate)

H, M, R, Mk, Z

35652
Acetyl-α-Tubulin (Lys40) (D20G3) XP® Rabbit mAb (Alexa Fluor® 488 Conjugate)

H, M, R, Mk, Z

18276
Acetyl-α-Tubulin (Lys40) (D20G3) XP® Rabbit mAb (PE Conjugate)

H, M, R, Mk, Z

14652
Acetyl-α-Tubulin (Lys40) (D20G3) XP® Rabbit mAb (HRP Conjugate)

H, M, R, Mk, Z

3873
α-Tubulin (DM1A) Mouse mAb

H, M, R, Mk

5046
α-Tubulin (11H10) Rabbit mAb (Alexa Fluor® 647 Conjugate)

H, M, R, Mk, Dm, Z, B, Pg

8058
α-Tubulin (DM1A) Mouse mAb (Alexa Fluor® 488 Conjugate)

H, M, R, Mk

5063
α-Tubulin (11H10) Rabbit mAb (Alexa Fluor® 488 Conjugate)

H, M, R, Mk, Dm, Z, B, Pg

12152
Acetyl-α-Tubulin (Lys40) (6-11B-1) Mouse mAb

H, R

12351
α-Tubulin (DM1A) Mouse mAb (HRP Conjugate)

H, M, R, Mk

3971
Acetyl-α-Tubulin (Lys40) Antibody

H, M, R

7944
PathScan® Total α-Tubulin Sandwich ELISA Kit

H, M, Mk

7945
PathScan® Total α-Tubulin Sandwich ELISA Antibody Pair

H, M, R, Hm, Mk

9774
Loading Control Antibody Sampler Kit (Mouse)
---