Home
>
Category: CellSimple
Show Hidden Content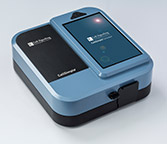 CellSimple™ Cell Analyzer
Fast – Accurate results in less than a minute right at your bench!
Simple – No fluidics or flow cell to maintain. No extensive training to operate.
Powerful – Bead and cell-based experiments at the push of a button.
LEARN MORE 
---
Visit CellSignal.com to find CellSimple Cell Analyzer. CST's Benchtop Cytometer for Cell- and Bead-based assays. Fast, Simple, Powerful, Affordable and Portable.