Home
>
Category: Cytokines
>
Research Area: Cell Biology > Extracellular Matrix (ECM)
Show Hidden Content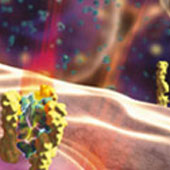 Cytokines & Growth Factors
All cytokines and growth factors listed below are produced and bioassayed in-house, ensuring the highest standards of quality and consistency.
Most products are free of tags or additional amino acids, and many are produced in mammalian cells to maximize natural conformation and glycosylation – especially important for successful in vivo applications.
Multi-milligram quantities always available for large scale in vivo experiments.
Validation includes the use of CST antibodies to assess downstream signaling events.
---
---