Home
>
Category: Primary Antibodies
> Keyword(s): akt
Show Hidden Content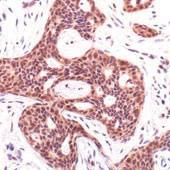 Akt/PKB
The proto-oncogene Akt (also known as PKB) is a serine/threonine kinase that has a critical regulatory role in diverse cellular processes, including cancer progression and insulin metabolism. Three highly related isoforms of Akt (Akt1, Akt2, and Akt3) exist and these represent the major signaling arm of PI3K. Listed below are CST products for Akt/PKB research including:
Total Protein and Phospho-site Specific Antibodies.
Antibody Sampler Kits, PathScan® Multiplex Western Cocktails and Kits.
PathScan® ELISA Kits and Antibody Pairs.
SignalSilence® siRNA.
---
No
Product Name
Application
Reactivity
4685
Akt (pan) (11E7) Rabbit mAb

H, M, R, Mk

4691
Akt (pan) (C67E7) Rabbit mAb

H, M, R, Mk, Dm

2920
Akt (pan) (40D4) Mouse mAb

H, M, R, Mk

9272
Akt Antibody

H, M, R, Hm, Mk, C, Dm, B, Dg, Pg, GP

14702
Akt (E17K Mutant Specific) (D1T7P) Rabbit mAb

H

2966
Akt (5G3) Mouse mAb

H, M, R, Hm

9940
Akt Isoform Antibody Sampler Kit

9614
Phospho-Akt Substrate (RXXS*/T*) (110B7E) Rabbit mAb

H, M, Dm, All

9611
Phospho-(Ser/Thr) Akt Substrate Antibody

H, M, R, All

4060
Phospho-Akt (Ser473) (D9E) XP® Rabbit mAb

H, M, R, Hm, Mk, Dm, Z, B

13038
Phospho-Akt (Thr308) (D25E6) XP® Rabbit mAb

H, M, R, Mk

4058
Phospho-Akt (Ser473) (193H12) Rabbit mAb

H, M, R

9271
Phospho-Akt (Ser473) Antibody

H, M, R, Hm, Dm, B, Dg, Pg

4051
Phospho-Akt (Ser473) (587F11) Mouse mAb

H, M, R, Hm

12694
Phospho-Akt (Ser473) (D9W9U) Mouse mAb

H, M, R, Mk

4056
Phospho-Akt (Thr308) (244F9) Rabbit mAb

H, M, R, Mk

9275
Phospho-Akt (Thr308) Antibody

H, M, R

3787
Phospho-Akt (Ser473) (736E11) Rabbit mAb

H, M

5106
Phospho-Akt (Thr308) (L32A4) Mouse mAb

H, M, R, Mk

2965
Phospho-Akt (Thr308) (C31E5E) Rabbit mAb

H, M, R, Hm, Mk

8107
SignalStain® Akt Pathway IHC Sampler Kit

8200
PhosphoPlus® Akt (Ser473) Antibody Duet

8205
PhosphoPlus® Akt (Thr308) Antibody Duet

12178
Phospho-Akt (Thr450) (D5G4) Rabbit mAb

H, M, R

9267
Phospho-Akt (Thr450) Antibody

H, M, R

4054
Phospho-Drosophila Akt (Ser505) Antibody

Dm

9916
Phospho-Akt Pathway Antibody Sampler Kit

10001
Phospho-Akt Substrate (RXRXXS*/T*) (23C8D2) Rabbit mAb

All

2691
PRAS40 (D23C7) XP® Rabbit mAb

H, M, R, Mk

2938
Akt1 (C73H10) Rabbit mAb

H, M, R, Mk
---