Home
>
Category: Primary Antibodies
> Keyword(s): caspase
Show Hidden Content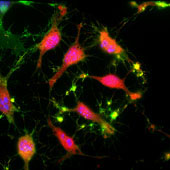 Caspase
Caspases, a family of cysteine proteases, are the central regulators of apoptosis. Initiator caspases (i.e., caspase-2, -8, -9, -10, -11, and -12) cleave and activate downstream effector caspases (i.e., caspase-3, -6, and -7), which in turn execute apoptosis by cleaving targeted cellular proteins. Listed below are CST products for caspase research including:
Antibodies for both Total and Cleaved protein.
Control Biotinylated and Blocking Peptides, and Activity Assay Kits.
Antibody Sampler Kits and PathScan® ELISA Kits and Antibody Pairs.
SignalSilence® siRNA.
---
No
Product Name
Application
Reactivity
9746
Caspase-8 (1C12) Mouse mAb

H

4927
Caspase-8 Antibody (Mouse Specific)

M

4790
Caspase-8 (D35G2) Rabbit mAb

H, M, R

9748
Cleaved Caspase-8 (Asp384) (11G10) Mouse mAb

H

8592
Cleaved Caspase-8 (Asp387) (D5B2) XP® Rabbit mAb (Mouse Specific)

M

9496
Cleaved Caspase-8 (Asp391) (18C8) Rabbit mAb

H

9429
Cleaved Caspase-8 (Asp387) Antibody (Mouse Specific)

M

12675
Initiator Caspases Antibody Sampler Kit

9662
Caspase-3 Antibody

H, M, R, Mk

3866
Caspase-1 (D7F10) Rabbit mAb

H

2225
Caspase-1 Antibody

H

46680
Caspase-5 (D3G4W) Rabbit mAb

H

14340
Caspase-11 (17D9) Rat mAb

M

9502
Caspase-9 Antibody (Human Specific)

H

9665
Caspase-3 (8G10) Rabbit mAb

H, M, R, Mk

8519
Caspase-14 Antibody

H, M, R

2224
Caspase-2 (C2) Mouse mAb

H

4450
Caspase-4 Antibody

H

14214
Caspase-3 (D3R6Y) Rabbit mAb (IHC Formulated)

H

9668
Caspase-3 (3G2) Mouse mAb

H

14220
Caspase-3 (D3R6Y) Rabbit mAb

H, M, R, Mk

9762
Caspase-6 Antibody

H, M, R

9494
Caspase-7 (C7) Mouse mAb (Human Specific)

H

12827
Caspase-7 (D2Q3L) Rabbit mAb

H, M, R

9492
Caspase-7 Antibody

H, M, R, Mk

2202
Caspase-12 Antibody

M

9508
Caspase-9 (C9) Mouse mAb

H, M, R, Hm, Mk

9504
Caspase-9 Antibody (Mouse Specific)

M

8698
Cleaved Caspase Substrate Motif [DE(T/S/A)D] MultiMab™ Rabbit mAb mix

All

9664
Cleaved Caspase-3 (Asp175) (5A1E) Rabbit mAb

H, M, R, Mk
---