Home
>
Category: Primary Antibodies
> Keyword(s): mapk
Show Hidden Content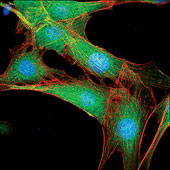 MAP/Erk Kinase
The MAPK/Erk signaling cascade is activated by a wide variety of receptors involved in growth and differentiation including receptor tyrosine kinases (RTKs), integrins, and ion channels. Listed below are CST products for MAP/Erk signaling pathway research including:
Total Protein and Phospho-site Specific Antibodies.
Control Cell Extracts and Proteins and Blocking Peptides.
Antibody Sampler Kits, PathScan® Multiplex Western Cocktails and Kits, and PathScan® ELISA Kits and Antibody Pairs.
SignalSilence® siRNA.
---
No
Product Name
Application
Reactivity
9926
MAPK Family Antibody Sampler Kit

4370
Phospho-p44/42 MAPK (Erk1/2) (Thr202/Tyr204) (D13.14.4E) XP® Rabbit mAb

H, M, R, Hm, Mk, Mi, Dm, Z, B, Dg, Pg, Sc

8690
p38 MAPK (D13E1) XP® Rabbit mAb

H, M, R, Hm, Mk, B, Pg

4695
p44/42 MAPK (Erk1/2) (137F5) Rabbit mAb

H, M, R, Hm, Mk, Mi, Dm, Z, B, Dg, Pg, Ce

4696
p44/42 MAPK (Erk1/2) (L34F12) Mouse mAb

H, M, R, Mk, Mi, Z, B, Pg

9101
Phospho-p44/42 MAPK (Erk1/2) (Thr202/Tyr204) Antibody

H, M, R, Hm, Mk, Mi, Dm, Z, B, Pg, Ce

9102
p44/42 MAPK (Erk1/2) Antibody

H, M, R, Hm, Mk, Mi, Z, B, Pg, Sc

4377
Phospho-p44/42 MAPK (Erk1/2) (Thr202/Tyr204) (197G2) Rabbit mAb

H, M, R, Mk, Mi, Dm, Z, Pg

4376
Phospho-p44/42 MAPK (Erk1/2) (Thr202/Tyr204) (20G11) Rabbit mAb

H, M, R, Hm, Mk, Mi, Dm, Z, Pg, Sc

5726
Phospho-p44/42 MAPK (Erk1) (Tyr204)/(Erk2) (Tyr187) (D1H6G) Mouse mAb

H, M, R, Mk

2325
Phospho-MAPK/CDK Substrates (PXS*P or S*PXR/K) (34B2) Rabbit mAb

H, All

9106
Phospho-p44/42 MAPK (Erk1/2) (Thr202/Tyr204) (E10) Mouse mAb

H, M, R, Hm, Mk, Mi, Dm, Z, B, Pg

9107
p44/42 MAPK (Erk1/2) (3A7) Mouse mAb

H, M, R, Hm, Mk, Mi, Z, B, Pg

9910
Phospho-MAPK Family Antibody Sampler Kit

8201
PhosphoPlus® p44/42 MAPK (Erk1/2) (Thr202/Tyr204) Antibody Duet

4511
Phospho-p38 MAPK (Thr180/Tyr182) (D3F9) XP® Rabbit mAb

H, M, R, Mk, Mi, Pg, Sc

9212
p38 MAPK Antibody

H, M, R, Mk, GP

9216
Phospho-p38 MAPK (Thr180/Tyr182) (28B10) Mouse mAb

H, M, R, Mk, Sc

9211
Phospho-p38 MAPK (Thr180/Tyr182) Antibody

H, M, R, Mk, Dm, Pg, Sc

9228
p38α MAPK (L53F8) Mouse mAb

H, M, R, Mk, Pg, Sc

4631
Phospho-p38 MAPK (Thr180/Tyr182) (12F8) Rabbit mAb

H, M, R, Mk, Dm

9215
Phospho-p38 MAPK (Thr180/Tyr182) (3D7) Rabbit mAb

H, M, R, Mk, Dm, Pg, Sc

9218
p38α MAPK Antibody

H, M, R, Mk

2339
p38β MAPK (C28C2) Rabbit mAb

H, Mk

2308
p38δ MAPK (10A8) Rabbit mAb

H, R

2307
p38γ MAPK Antibody

H, M, R, Mk

2371
p38α MAPK (7D6) Rabbit mAb

H, M, R, Mk

9217
p38α MAPK (5F11) Mouse mAb

H, M, R

9913
Phospho-p38 MAPK Pathway Sampler Kit

9790
p38 MAPK Isoform Activation Antibody Sampler Kit
---