Summer Internship Program
Gain hands-on experience at the bench or in other aspects of business. Learn valuable technical skills from our knowledgeable CST scientists and business leaders. View our Application for Internship.
Upcoming Events
Come visit Cell Signaling Technology (CST) at one of the upcoming conferences or vendor shows we are attending. Please stop by the CST booth to meet with one of our scientists, learn about new products, pick up some reference material or simply stop by to say hello.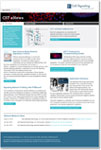 News from the Bench
Discover what's going on at CST, receive our latest application notes, science features, and more.
Associate Product Scientist/Product Scientist
Beverly, MA
Cell Signaling Technology, Inc. (CST) is a worldwide leader in the development and commercialization of antibodies, assays and research tools. As a company of scientists for scientists, we have developed PTMScan®, a technology to discover protein post-translational modifications, PhosphoSitePlus®, an online resource for investigation of post-translational modifications, and XMT® technology, a proprietary method to develop exceptional monoclonal antibodies. We are fully committed to developing new research tools to help define the mechanisms underlying cell function and disease, thereby broadly accelerating progress in biomedical research and medicine.
CST is seeking a talented and highly motivated Associate Product Scientist/Product Scientist to join our Production organization to manufacture and manage a variety of antibody-based products. This is not a research focused role rather, it is a unique opportunity that will require a balance of efforts across a variety of work including 40% bench work, 30% product support with end-users of our products and 30% cross-functional coordination of product related activities. This is a wonderful opportunity for someone with a scientific background who wishes to gain broader business operations experience. Specific responsibilities for this role include producing and characterizing new product lots to be sold to end users, assisting customers with product related questions and working closely with various departments including product development, sales and marketing to ensure the highest quality product possible. Successful candidates will possess a demonstrated excellence in science, interest in working with external customers and the ability to work cross functionally to meet deadlines in a fast-paced, dynamic environment. Excellent interpersonal, communication, and organizational skills are a must.
Qualifications:
BS in biology, biochemistry or related discipline
2+ years of industry laboratory experience
A background in signal transduction with experience in western blotting, immunoprecipitation, ELISA, purification and mammalian cell culture is a must.
Preferred Skills/Qualifications:
Masters or PhD in scientific discipline is a plus
Demonstrated excellence in science – the ability to produce reliable scientific outcomes on a consistent basis
Proficient skills in Microsoft Word, Powerpoint, Excel
Ability to juggle and manage multiple priorities is critical.
Excellent interpersonal, communication, planning and organizing skills
Strong customer service orientation and capabilities
Ability to work independently and as part of a team to meet deadlines
Ability to utilize a variety of workflow management technology tools including enterprise resource planning (ERP) and customer relationship management (CRM) solutions experience a plus (e.g. Oracle/SAP or Salesforce.com, respectively)
You will be taken to an external website, please attach your cover letter and resume as one document and refer to job code APPS-2017-R when applying.