Summer Internship Program
Gain hands-on experience at the bench or in other aspects of business. Learn valuable technical skills from our knowledgeable CST scientists and business leaders. View our Application for Internship.
Upcoming Events
Come visit Cell Signaling Technology (CST) at one of the upcoming conferences or vendor shows we are attending. Please stop by the CST booth to meet with one of our scientists, learn about new products, pick up some reference material or simply stop by to say hello.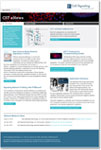 News from the Bench
Discover what's going on at CST, receive our latest application notes, science features, and more.
Supervisor, International Trade & Logistics
Danvers, MA
Cell Signaling Technology, Inc. (CST) is a worldwide leader in the development and commercialization of antibodies, assays and research tools. As a company of scientists for scientists, we have developed PTMScan®, a technology to discover protein post-translational modifications, PhosphoSitePlus®, an online resource for investigation of post-translational modifications, and XMT® technology, a proprietary method to develop exceptional monoclonal antibodies. We are fully committed to developing new research tools to help define the mechanisms underlying cell function and disease, thereby broadly accelerating progress in biomedical research and medicine.
Job Summary:
CST is seeking a Supervisor of International Trade and Logistics to support Cell Signaling Technology with import/export regulatory and logistics services for compliance with international biological and chemical safety regulations. This position will report directly to the Director of Global Distribution and Customer Service.
Key Responsibilities:
Research and understand changing country-specific laws and regulations (e.g. IREGs, OSHA, GHS, REACH, DOT, IATA) governing biological import/export, SDS authoring, chemical transportation, and hazardous chemical management.
Provide accurate and timely regulatory support to both internal and external customers for the import and export of chemicals and biologicals worldwide, including dangerous goods, chemical notification, and registration.
Create and maintain product regulatory reports, procedures and documentation.
Review, analyze and drive the resolution of regulatory issues that prevent the smooth flow of CST product and materials worldwide.
Collaborate with international subsidiaries, distributors, and regulatory agencies to understand regulatory requirements.
Establish SOPs and protocols to ensure international operations, product packaging and labeling meet all regulatory requirements.
Collaborate with IT and various CST stakeholders to idenitify, develop and deploy systems and tools that will automate processes.
Supervise and develop international customer service team (2 direct reports).
Experience:
2-7 years experience working in a Bio-pharmaceutical supply chain role.
Experience in Global trade and Logistics, Regulatory, Product stewardship, or Environmental Health & Safety, with emphasis on import/export requirements.
Experience interacting with U.S. and international regulatory agencies.
Supervisory experience preferred.
Qualifications:
BS Degree
Excellent Microsoft Office skills.
Proven analytical and creative problem-solving abilities.
Strong documentation skills with an attention to detail and ability to accurately manage large amounts of detailed information.
Demonstrated ability to work effectively on multiple assignments concurrently.
Experience working in a team-oriented and collaborative environment.
Able to communicate effectively with technical and non-technical personnel.
Strong service orientation, highly self-motivated and energetic.
Independent, takes initiative and responsibility for own actions.
You will be taken to an external website, please attach your cover letter and resume as one document and refer to job code TRADE-2016-2-R when applying.