Summer Internship Program
Gain hands-on experience at the bench or in other aspects of business. Learn valuable technical skills from our knowledgeable CST scientists and business leaders. View our Application for Internship.
Upcoming Events
Come visit Cell Signaling Technology (CST) at one of the upcoming conferences or vendor shows we are attending. Please stop by the CST booth to meet with one of our scientists, learn about new products, pick up some reference material or simply stop by to say hello.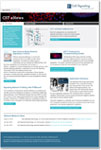 News from the Bench
Discover what's going on at CST, receive our latest application notes, science features, and more.
IT Project Manager
Danvers, MA
Cell Signaling Technology, Inc. (CST) is a worldwide leader in the development and commercialization of antibodies, assays and research tools. As a company of scientists for scientists, we have developed PTMScan®, a technology to discover protein post-translational modifications, PhosphoSitePlus®, an online resource for investigation of post-translational modifications, and XMT® technology, a proprietary method to develop exceptional monoclonal antibodies. We are fully committed to developing new research tools to help define the mechanisms underlying cell function and disease, thereby broadly accelerating progress in biomedical research and medicine.
We are seeking a highly motivated IT Project Manager to join our IT Project Management Office.
The IT Project Manager is responsible for leading global cross-functional teams to ensure project deliverables meet agreed timelines, scope, budget, and quality objectives. The IT Project Manager will manage a variety of IT projects ranging from Commercial Systems deployments, ERP migrations, Infrastructure upgrades, new system integrations, as well as smaller ad-hoc initiatives. The successful candidate must be a proactive, problem solver with the ability to think both strategically and tactically. Strong communication skills, ability to shift on the fly, and work independently are critical. Experience working with 3rd party vendors within both an agile scrum and waterfall environment is essential.
Responsibilities:
Collaborates with key business stakeholders and users worldwide to drive IT projects to successful completion.
Manages and/or collaborates with internal and external resources required to develop, deploy and support CST's integrated global IT systems.
Create project documentation (charters, schedules, budgets, risk plans, communication plans, status reports, etc.) in a timely fashion and in accordance with CST PMO standards.
Manages relationships with established 3rd party vendors.
Contributes to the development and continuous evolution of CST's global IT strategy.
Stays current on the latest IT trends and technologies with special emphasis on web/commerce, digital marketing, master data management, cloud, mobile and SaaS applications.
Qualifications:
5+ years experience managing complex, cross-functional IT projects.
Extensive experience with project management in a high technology environment.
Good customer focus, attitude and excellent interpersonal, verbal and written communication skills.
A thorough understanding of Project Life Cycle, SDLC, scaled agile framework management controls.
Ability to manage and delegate work as part of a team in a highly matrixed environment.
Strong presence and confidence with the ability to communicate well with all areas of the business, as well as other constituencies and stakeholders, both external and internal.
Passionate, high-energy leader with a forward thinking, strategic perspective.
Excellent collaboration and teamwork skills across all areas of the business.
Demonstrated ability to be a strong problem solver and decision maker with the courage and conviction to follow through on decisions and the presentation skills and credibility to win support and align the organization; possess a high level of intellectual curiosity and analytic skills.
PMP, CSM certifications a plus.
Candidate must have experience with global commercial systems and ecommerce frameworks and be comfortable communicating with senior engineers and architects.
Experience with Mac OSX, Gmail and Google Apps would be beneficial but not required.
Experience using Jira and/or Smartsheets is important.
You will be taken to an external website, please attach your cover letter and resume as one document and refer to job code PMIT2-2016-R when applying.