Summer Internship Program
Gain hands-on experience at the bench or in other aspects of business. Learn valuable technical skills from our knowledgeable CST scientists and business leaders. View our Application for Internship.
Upcoming Events
Come visit Cell Signaling Technology (CST) at one of the upcoming conferences or vendor shows we are attending. Please stop by the CST booth to meet with one of our scientists, learn about new products, pick up some reference material or simply stop by to say hello.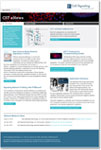 News from the Bench
Discover what's going on at CST, receive our latest application notes, science features, and more.
Research Associate/Sr. Research Associate - Molecular Biology
Danvers, MA
Cell Signaling Technology, Inc. (CST) is a worldwide leader in the development and commercialization of antibodies, assays and research tools. As a company of scientists for scientists, we have developed PTMScan®, a technology to discover protein post-translational modifications, PhosphoSitePlus®, an online resource for investigation of post-translational modifications, and XMT® technology, a proprietary method to develop exceptional monoclonal antibodies. We are fully committed to developing new research tools to help define the mechanisms underlying cell function and disease, thereby broadly accelerating progress in biomedical research and medicine.
We are seeking a Research Associate/Sr. Research Associate with a strong background in molecular and cell biology to join the Cell Line Development Team in the Molecular Biology Group. This group plays a vital role in the advancement of our antibody development and validation efforts. The successful candidate will join a highly dynamic and diverse group whose mission is to generate knockout and transgenic cell lines that enable assessment of antibody specificity during the antibody development and validation process.
Responsibilities:
Independently design, generate, and validate biological reagents and constructs for CRISPR or other transgenic systems
Design and engineer genetic vectors for mammalian expression
Perform mammalian cell culture (cell propagation, transfection, cloning, and cataloging)
Design and implement screens to query libraries of cell lines for specific traits of interest
Work with other team members with different scientific backgrounds to contribute to cross-functional projects
Qualifications:
BS in Molecular Biology, Cell Biology, Genetics or related discipline
6+ months of hands-on lab experience
Experience with general molecular biology techniques, including DNA isolation, primer design, PCR, molecular cloning, homologous recombination, and DNA sequence analysis
Strong background in mammalian cell-culture including sterile technique, transfections, cloning, and overall experimental design
Previous experience using CRISPR/Cas9 or other gene editing tools is preferred
Strong creative, analytical, and problem solving skills
Strong organization skills with the ability to multi-task effectively and manage multiple priorities at one time.
Team-oriented mindset
Strong communication skills (verbal and written)
You will be taken to an external website, please attach your cover letter and resume as one document and refer to job code RAMB-2016-R when applying.