Summer Internship Program
Gain hands-on experience at the bench or in other aspects of business. Learn valuable technical skills from our knowledgeable CST scientists and business leaders. View our Application for Internship.
Upcoming Events
Come visit Cell Signaling Technology (CST) at one of the upcoming conferences or vendor shows we are attending. Please stop by the CST booth to meet with one of our scientists, learn about new products, pick up some reference material or simply stop by to say hello.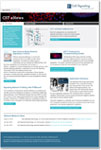 News from the Bench
Discover what's going on at CST, receive our latest application notes, science features, and more.
Senior Business Analyst/Programmer
Danvers, MA
Cell Signaling Technology, Inc. (CST) is a worldwide leader in the development and commercialization of antibodies, assays and research tools. As a company of scientists for scientists, we have developed PTMScan®, a technology to discover protein post-translational modifications, PhosphoSitePlus®, an online resource for investigation of post-translational modifications, and XMT® technology, a proprietary method to develop exceptional monoclonal antibodies. We are fully committed to developing new research tools to help define the mechanisms underlying cell function and disease, thereby broadly accelerating progress in biomedical research and medicine.
We are seeking a self-motivated and talented Senior Business Analyst/Programmer to support Cell Signaling Technology's Product Information Management (PIM) system and eCommerce platform. The Senior Business Analyst/Programmer will be a critical member of the team and will work closely with the platform architects, platform owner, and subject matter experts (SME's) to drive the technical aspects of the PIM and eCommerce projects. The ideal candidate will have experience leading and documenting master data schema design and development sessions, product taxonomy diagraming sessions, data migration processes, integration strategies, functional and non-functional specifications for business rules and workflow processes.
Responsibilities
Develop and maintain PIM data models (conceptual, logical, and physical master data models)
Design and build data integration/synchronization models (PIM platform, Integration platform and/or third party systems) to include source to target mapping
Develops and configures PIM/MDM modules to meet technical specifications and business requirements
Lead the development of the product data definition glossary and execution of the product data migration strategy (to include data profiling, validation, cleanup and remediation).
Document workflows that support the augmented business processes
Provide testing oversight on the PIM and eCommerce platforms (unit test, develops test scripts, test conditions, input test data, and expected results for one or more test plans, including component, assembly, product, performance, user acceptance and technical architecture tests; execution of test scripts)
Troubleshoot and resolve issues with PIM system, processes, and related systems
Evaluate, test and deploy new upgrades and updates as they relate to PIM and eCommerce systems, processes, related systems and end users.
Support platform maintenance processes to include (but not limited to) backups, archiving, maintenance, application setup, and new-user setup, and updates that are required for business operations.
Qualifications
Bachelors in Computer Science or equivalent experience
4+ years of hands-on experience with a PIM or MDM System (Riversand, Informatica, Stibo, etc)
2+ years design and configuration experience on cloud based PIM/MDM platforms
3+ years of Data Modeling Tools (e.g., Erwin, Designer/2000, Rational Rose, Power Designer, Embarcadero, System Architect)
3+ years with Data Quality toolsets (e.g., Informatica, Trillium, SAP/Business Objects (FirstLogic), IBM QualityStage, or SAS/DataFlux)
3+ years' experience in programming languages, including .NET, XML Configuration, C#, HTML, Java, PL/SQL
3+ years product content modeling experience
Prior implementation experience on any one of the leading PIM technologies (Stibo (Step), Riversand, Informatica (Product 360 PIM))
Experience with Mozu, Demandware or Magento (or other cloud based eCommerce systems) is desired
You will be taken to an external website, please attach your cover letter and resume as one document and refer to job code SRBA-2016-N when applying.