Summer Internship Program
Gain hands-on experience at the bench or in other aspects of business. Learn valuable technical skills from our knowledgeable CST scientists and business leaders. View our Application for Internship.
Upcoming Events
Come visit Cell Signaling Technology (CST) at one of the upcoming conferences or vendor shows we are attending. Please stop by the CST booth to meet with one of our scientists, learn about new products, pick up some reference material or simply stop by to say hello.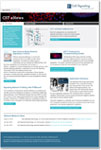 News from the Bench
Discover what's going on at CST, receive our latest application notes, science features, and more.
User Experience (UX) Design Specialist
Danvers, MA
Cell Signaling Technology, Inc. (CST) is a worldwide leader in the development and commercialization of antibodies, assays and research tools. As a company of scientists for scientists, we have developed PTMScan®, a technology to discover protein post-translational modifications, PhosphoSitePlus®, an online resource for investigation of post-translational modifications, and XMT® technology, a proprietary method to develop exceptional monoclonal antibodies. We are fully committed to developing new research tools to help define the mechanisms underlying cell function and disease, thereby broadly accelerating progress in biomedical research and medicine.
We are seeking a creative and talented User Experience (UX) Design Specialist to support Cell Signaling Technology's Product Information Management (PIM) system and eCommerce platform. The UX Design Specialist will be a key member of the PIM agile team by creating logical information workflows and intuitive user interfaces that will encourage and promote repeatable business user engagement. In addition, the UX Design Specialist will work collaboratively with Marketing and IT to enhance and optimize the interactive user experience of the web/ecomm platform.
The ideal candidate will have experience developing and conducting user-centered research and validation through use of interviews, surveys, in-person observations, and user testing, as well as experience with information architecture (IA), taxonomy development (for data management), responsive design, content mapping, interaction diagramming, sitemap generation, wireframes and iterative design prototyping.
Responsibilities:
Engage with internal and external customers (Marketing, Service Technology, end-users and domain experts) to analyze business needs and processes and identify how they can be enhanced through optimized user experience design
Ideate and create UX deliverables such as user workflows, annotated wireframes, information architecture and interaction models optimized for a wide range of devices and interfaces
Collaborate with the development team, content editors, graphic designers, users, and others to create clean and intuitive UI application designs
Conduct reviews of how internal and external customers utilize existing systems
Assist in gathering requirements for new features and applications
Provide multiple options for interaction design and content organization
Provide guidance/feedback to enhance standards, including style guides, patterns, and behavior clarifications
Other duties as assigned
Qualifications:
Bachelor's degree in interaction design, industrial design, psychology, information architecture or equivalent discipline
3+ years as a usability engineer, information architect, user experience designer, user researcher, or other equivalent title in software design and development
3+ years design-related experience specializing in user-interface design across multiple form-factors/devices
3+ years experience using tools such as Adobe Creative Suite, Axure, Omnigraffle, Sketch
Experience with current web technologies, such as HTML/CSS, JavaScript, Bootstrap, etc.
Experience leading design-related conversations, and ideation on project requirements
Ability to build and nurture good relationships and foster environments for open, productive collaboration is highly desirable
Knowledgeable in WCAG 2.0 guidelines and CUA or CXA credential is a plus
You will be taken to an external website, please attach your cover letter and resume as one document and refer to job code UXDSGN-2016-N when applying.