Summer Internship Program
Gain hands-on experience at the bench or in other aspects of business. Learn valuable technical skills from our knowledgeable CST scientists and business leaders. View our Application for Internship.
Upcoming Events
Come visit Cell Signaling Technology (CST) at one of the upcoming conferences or vendor shows we are attending. Please stop by the CST booth to meet with one of our scientists, learn about new products, pick up some reference material or simply stop by to say hello.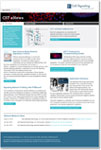 News from the Bench
Discover what's going on at CST, receive our latest application notes, science features, and more.
Salesforce Systems Administrator
Beverly, MA
Cell Signaling Technology, Inc. (CST) is a worldwide leader in the development and commercialization of antibodies, assays and research tools. As a company of scientists for scientists, we have developed PTMScan®, a technology to discover protein post-translational modifications, PhosphoSitePlus®, an online resource for investigation of post-translational modifications, and XMT® technology, a proprietary method to develop exceptional monoclonal antibodies. We are fully committed to developing new research tools to help define the mechanisms underlying cell function and disease, thereby broadly accelerating progress in biomedical research and medicine.
The Salesforce Systems Administrator is responsible for supporting the day-to-day operation of our Salesforce.com environment. As a member of our Salesforce team you will be working in an Agile framework, specifically Scrum, to support an environment of 250+ users in a global environment. Our user base is diverse with people from all areas of our business, including Technical Support, Sales, Marketing, Quality, Customer Service, Legal, Vendors and self-registering users via our Customer Community Portal.
Daily activities will include, but are not limited to, resolving technical and functional support issues, driving new opportunities for functionality, managing data loads and data quality, supporting our implementation of JIRA to manage day to day support tickets as well as user stories, sprint planning, feature rollouts and training end-users on how to utilize new features and functionality. This role requires a natural ability and enjoyment of helping others by building confidence with users. We're seeking a CRM believer who is passionate about Salesforce and can communicate and drive user adoption by demonstrating ease of use and the benefits of Salesforce to all areas of our business.
Responsibilities:
Perform all tasks related to the day-to-day operation and management of a global implementation of Salesforce.com, including managing users, maintaining custom objects and fields, maintenance of page layouts, custom views and daily support of a variety of app exchange applications
Manage a queue of various support requests generated by our users, as well as occasional system administration tasks
Work with our Salesforce Architect and Solutions Engineers to identify areas of improvement and suggest solutions to system impediments
Work cross-functionally to maintain and improve upon CRM integrations with different systems to support business processes
Provide feedback and suggest solutions to other CRM team members on impediments and roadblocks
Participate as a team member on our Agile/Scrum development team
Assist in the configuration and maintenance of "sandbox" environments to facilitate successful development and QA testing of new on-demand features and functionality
Assist in release management tasks required to promote tested functionality from sandbox into a production environment
Perform End User Training and assist with onboarding of new Salesforce users
Qualifications:
3-5 years experience in Salesforce.com administration with proven ability to support customers and users with diverse requirements
Previous experience with the various Salesforce cloud solutions, specifically the Sales Cloud, Service Cloud (Case Management) & Marketing Cloud
Experience with Salesforce console apps, including "feed based" user interfaces
Salesforce.com certifications
Desired Skills:
Experience with CTI/ACD System Integrations
Experience Integrating major App Exchange solutions such as Apttus
Managing privacy and/or knowledge of Salesforce's Shield Product Solution
Demonstrated understanding of Salesforce.com platform and services including SFA, Case Management, Partner/Community Management, Force.com, Marketing, Service & Support, Visual Force and/or AppExchange
Familiar with Change and Release Management processes
Familiar with enterprise integration tools and API's
Go-getter and Salesforce.com enthusiast who thrives on working in fast-paced environment
Strong team player with service-oriented attitude and customer focus
Excellent written and verbal communication skills
You will be taken to an external website, please attach your cover letter and resume as one document and refer to job code SFADMIN-2016-N when applying.