Summer Internship Program
Gain hands-on experience at the bench or in other aspects of business. Learn valuable technical skills from our knowledgeable CST scientists and business leaders. View our Application for Internship.
Upcoming Events
Come visit Cell Signaling Technology (CST) at one of the upcoming conferences or vendor shows we are attending. Please stop by the CST booth to meet with one of our scientists, learn about new products, pick up some reference material or simply stop by to say hello.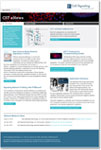 News from the Bench
Discover what's going on at CST, receive our latest application notes, science features, and more.
Research Associate - Chromatin IP (ChIP)
Danvers, MA
Cell Signaling Technology, Inc. (CST) is a worldwide leader in the development and commercialization of antibodies, assays and research tools. As a company of scientists for scientists, we have developed PTMScan®, a technology to discover protein post-translational modifications, PhosphoSitePlus®, an online resource for investigation of post-translational modifications, and XMT® technology, a proprietary method to develop exceptional monoclonal antibodies. We are fully committed to developing new research tools to help define the mechanisms underlying cell function and disease, thereby broadly accelerating progress in biomedical research and medicine.
We are currently seeking a highly motivated Research Associate to join a team dedicated to the development of epigenetics-based assays. The candidate will contribute to the development of innovative research tools, with a primary focus on antibody validation and assay development for chromatin IP (ChIP) and ChIP-Seq. Major lab techniques include cell lysate preparation, ChIP, DNA purification, PCR, DNA sequencing library preparation and cell culture. Applicants must be able to design moderately complex experiments with proper controls and are expected to independently interpret and report results.
Responsibilities
Collaborate with senior project scientists and other research associates to manage a fast-paced pipeline and complete scientific tasks on aggressive timelines to support internal and external customers
Independently test antibody and reagent performance in chromatin IP (ChIP) assays. Techniques include cell culture, cell lysate preparation, chromatin IP, DNA purification, qPCR, and DNA sequencing library preparation
Independently analyze experimental data and communicate results to senior project scientists via presentation and email
Identify, analyze and troubleshoot technical issues relating to antibody and reagent performance in the ChIP assay
Collaborate with senior project scientists to identify, develop, and release new protocols and products to support ChIP workflow
Provide support to colleagues in the commercial organization by reviewing datasheets and technical literature, generating scientific content for webinars and other marketing collateral, and hosting technical training sessions for internal customers
May also involve travel to scientific conferences to provide ChIP support for external customers at the company booth
Engage directly with internal and external customers to provide technical assistance via email and phone. Troubleshoot unexpected ChIP results and assist with experimental design questions.
Qualifications:
BA/BS, or MS degree in a biological science (e.g. Molecular Biology, Cell Biology, Biochemistry or Biotechnology)
2+ years of post-graduate laboratory experience
Hands-on experience with cell culture, PCR and immunoprecipitation
Preferred Skills:
Experience with ChIP assay
Strong organizational skills and attention to detail
Ability to work independently with a collaborative mindset
Ability to multi-task effectively and manage multiple priorities at one time
Strong verbal and written communication skills and ability to thrive in a team environment
Familiarity with computer programs such as Microsoft Word, Excel and PowerPoint
You will be taken to an external website, please attach your cover letter and resume as one document and refer to job code RAEPI-2016-R when applying.