Summer Internship Program
Gain hands-on experience at the bench or in other aspects of business. Learn valuable technical skills from our knowledgeable CST scientists and business leaders. View our Application for Internship.
Upcoming Events
Come visit Cell Signaling Technology (CST) at one of the upcoming conferences or vendor shows we are attending. Please stop by the CST booth to meet with one of our scientists, learn about new products, pick up some reference material or simply stop by to say hello.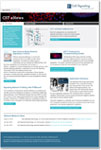 News from the Bench
Discover what's going on at CST, receive our latest application notes, science features, and more.
Legal Counsel
Danvers, MA
Cell Signaling Technology, Inc. (CST) is a worldwide leader in the development and commercialization of antibodies, assays and research tools. As a company of scientists for scientists, we have developed PTMScan®, a technology to discover protein post-translational modifications, PhosphoSitePlus®, an online resource for investigation of post-translational modifications, and XMT® technology, a proprietary method to develop exceptional monoclonal antibodies. We are fully committed to developing new research tools to help define the mechanisms underlying cell function and disease, thereby broadly accelerating progress in biomedical research and medicine.
The Legal Counsel will partner with the Sales, Marketing and Business Development teams to develop, negotiate, manage and execute a high volume of commercial and partnership agreements, as well as to provide strategic guidance, training, template creation and all other legal support as may be needed. This position will report directly to the General Counsel.
Responsibilities:
Provide strategic, commercial and corporate legal services and support in conjunction with the Legal Team
Independently negotiate and draft life science based agreements. The spectrum of transactions includes a broad breath from the simple to the more complicated.
Dispose of commercial and contractual issues with a marked emphasis on those germane to the Uniform Commercial Code and the Bayh–Dole Act
Assist in the development of a number of initiatives including mergers and acquisitions, strategic alliances, as well as in and out-licensing transactions
Counsel on implementation and other post-transactional related issues
Collaboratively and proactively build strong cross-functional working relationships between the Legal Department and other units (e.g., the Finance, HR, Operations, Sales, Marketing, IT and the Business Development Departments)
Manage litigation and other risk related activities
Train and educate stakeholders and business colleagues on commercial, contractual, antitrust, data privacy, pricing, import/export issues as well as other regulatory considerations
Maintain current knowledge of applicable relevant laws, regulations and developments in the law. Research and advise on applicable regulatory matters including import/export, FDA and EMEA to support CST's diagnostic goals and aspirations.
Other functions and responsibilities as determined by the need of the Legal Department
Qualifications:
Juris Doctorate from an accredited U.S. law school
Licensed in good standing to practice law in Massachusetts
Successful track record of at least 7 years of legal experience as a licensed U.S. attorney, ideally through a combination of law firm and in-house experience with life sciences clients
Demonstrable experience managing customer, procurement and vendor transactions
Ascertainable hands-on experience in negotiating and drafting agreements
Working understanding of intellectual property law principles is preferred
Preferred Skills/Experience:
Extremely adept, polished and confident in hands-on solo negotiating and drafting of agreements (the preponderance of the transactions are developed by in house counsel only and with no outside counsel involvement).
Comfortable dealing with very tight deadlines in a high volume environment, requiring triaging and prompt management of stakeholders' expectations on an on-going basis
Excellent oral and written communication skills, including those suitable for interaction with senior management
Strong problem solving and analytical abilities
Proven judgment and decision-making skills, comfortable with risk management issues
Very positive and approachable demeanor with a strong stakeholder focus and a dynamic and result-oriented disposition to effectively consult, coach and influence individuals and teams as a business partner
You will be taken to an external website, please attach your cover letter and resume as one document and refer to job code LGLCNSL-2016-R when applying.