SimpleChIP® Plus Enzymatic Chromatin IP Kits
SimpleChIP® Enzymatic Chromatin IP Kits from Cell Signaling Technology are optimized to detect endogenous levels of protein-DNA interactions in both cultured cells and SimpleChIP® Plus Chromatin IP Kits offer the additional benefit of tissue sample analysis. These kits contain all reagents necessary to perform enzymatic digestion-based chromatin immunoprecipitation (ChIP) experiments quickly and easily, as well as positive and negative controls that ensure confidence in your results. These kits are available with either Protein G agarose or Protein G magnetic beads and contain all buffers and reagents needed to perform up to 30 ChIP assays.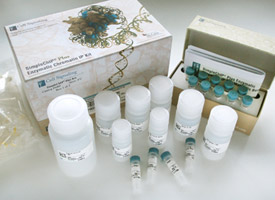 Benefits include:
Enzymatic digestion of chromatin is milder than sonication and better preserves the integrity of the chromatin and antibody epitopes, which means increased IP efficiency.
A detailed and easily scalable protocol optimized for analysis of tissue and cell samples is provided, saving your valuable time and reagents.
All reagents and controls are included, saving valuable time and providing the proper experimental controls.
These kits are used in-house for validation of our ChIP-recommended antibodies, saving you the trouble of optimization.
The included ChIP-grade magnetic beads are ideal for downstream ChIP-on-chip or ChIP-sequencing as they provide higher sensitivity and low background.
Technical support is provided by the same scientists who developed and produce the kits, ensuring a thorough, fast, and accurate response.
SimpleChIP® Plus Enzymatic Chromatin IP Kits
| No. | Name | Applications | Reactivity |
| --- | --- | --- | --- |
| 5571 | Anti-biotin (D5A7) Rabbit mAb (HRP Conjugate) | W, E-P | All |
| 9005 | SimpleChIP® Plus Enzymatic Chromatin IP Kit (Magnetic Beads) | ChIP | H, M, R, Mk |
| 9004 | SimpleChIP® Plus Enzymatic Chromatin IP Kit (Agarose Beads) | ChIP | H, M, R, Mk |
| 9002 | SimpleChIP® Enzymatic Chromatin IP Kit (Agarose Beads) | ChIP | H, M, R, Mk |
| 9003 | SimpleChIP® Enzymatic Chromatin IP Kit (Magnetic Beads) | ChIP | H, M, R, Mk |
Applications Key: W=Western blot  ChIP=Chromatin Immunoprecipitation  E-P=ELISA Peptide 
Reactivity Key: H=Human  M=Mouse  R=Rat  Mk=Monkey  All=All Species Expected