Antibody Validation for Immunofluorescence
Technical Support
Our scientists are at the bench daily to produce and validate our antibodies, so they have hands-on experience and knowledge of each antibody's performance.
Immunofluorescence (IF) involves the labeling of cellular proteins with specific primary antibodies and fluorochrome-conjugated secondary antibodies (indirect method) or labeling with directly conjugated primary antibodies (direct method). Most fluorescence microscopes allow the examination of subcellular localization, relative expression level and/or activation-state (e.g. phosphorylation status) of two or three fluorescently-labeled proteins in a single sample. The ability to perform multiplexed analyses eliminates the need for consecutive sections when studying a subset of cells with multiple markers in a tissue, saving both time and reagents. Scientists at Cell Signaling Technology (CST) have validated over 800 activation-state specific (e.g., phosphorylation-specific) and total protein antibodies for IF applications, such as manual fluorescence microscopy or automated imaging and laser scanning high content platforms. All CST™ antibodies that are approved for use in immunofluorescent assays have undergone a rigorous validation process.
Validation Steps Include
Cell lines or tissues with known target expression levels are used to verify specificity.
Appropriate cell lines and tissues are used to verify subcellular localization.
Antibody performance is assessed on appropriate tissues.
Cells are subjected to phosphatase treatment to verify phospho-specificity. Target specificity is also verified with the use of known knockout or null cell lines.
Cells are subjected to siRNA treatment or over-expression of the target protein to verify target specificity.
Activation state specification, target expression, and translocation are examined using ligands or inhibitors to modulate pathway activity.
Requirement of threshold signal-to-noise ratio in antibody:isotype comparison and minimum fold-induction for phospho-specific antibodies ensures the greatest possible sensitivity.
Fixation and permeabilization conditions are optimized; alternative protocols are recommended if necessary.
Stringent testing ensures lot-to-lot consistency.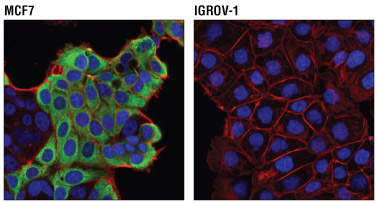 Confocal immunofluorescent analysis of MCF7 cells (positive, left) and IGROV-1 cells (negative, right) using AGR2 (D9V2F) XP® Rabbit mAb #13062 (green) and β-Actin (8H10D10) Mouse mAb #3700 (red). Blue pseudocolor= DRAQ5® #4084 (fluorescent DNA dye).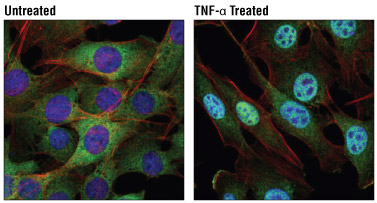 Confocal immunofluorescent analysis of C2C12 cells, untreated (left) or treated with Mouse Tumor Necrosis Factor-α (mTNF-α) #5178 (20 ng/ml, 30 min; right), using NF-κB1 p105/p50 (D4P4D) Rabbit mAb #13586 (green). Actin filaments were labeled with DyLight™ 554 Phalloidin #13054 (red). Blue pseudocolor= DRAQ5® #4084 (fluorescent DNA dye).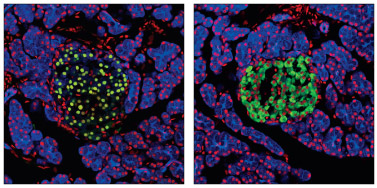 Pdx1 Antibody #2437: Confocal immunofluorescent analysis of normal rat pancreas using Pdx1 Antibody #2437 (green, upper) or Insulin (C27C9) Rabbit mAb #3014 (green, lower). Keratin filaments were labeled with Pan-Keratin (C11) Mouse mAb (Alexa Fluor® 647 Conjugate) #4528 (blue). Red = Propidium Iodide/RNase #4087 (fluorescent DNA dye).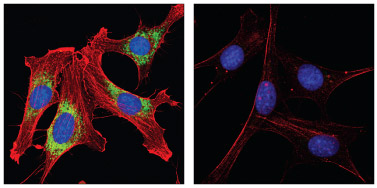 PDI Antibody #2446 and β-Actin (8H10D10) Mouse mAb #3700: Confocal IF analysis of NIH/3T3 cells, permeabilized with methanol (upper) or 0.3% Triton X-100 (lower), using #2446 (green) and #3700 (red). Blue pseudocolor = DRAQ5® #4084 (fluorescent DNA dye).