Antibody Validation for Immunohistochemistry
Technical Support
Our scientists are at the bench daily to produce and validate our antibodies, so they have hands-on experience and knowledge of each antibody's performance.
Immunohistochemistry (IHC) involves the labeling of cellular proteins in tissue samples with a specific primary antibody and visualization of the target with detection reagents. Cell Signaling Technology (CST) offers over 800 antibodies validated for IHC, as well as IHC diluents, detection reagents, substrates and controls, to ensure that your IHC studies yield accurate and reproducible results. The determination of target specificity in immunohistochemical analysis requires multiple validation steps. CST scientists use a variety of methods, as appropriate, to validate each IHC-recommended antibody, ensuring that the staining you observe with each CST™ antibody is specific and believable.
Validation Steps Include
Western blot analysis is performed to demonstrate specific bands of the appropriate molecular weight(s), with minimal cross-reacting bands.
Paraffin-embedded cell pellets of known target expression levels are used to verify target specificity.
Antibody performance is assessed in relevant mouse models of cancer.
Xenografts generated from cell lines with known target expression levels help verify target specificity.
Human cancer tissue arrays are used to demonstrate antibody performance over a broad spectrum of tissue types.
Staining on fresh frozen tissues is performed when appropriate.
Tissue sections and cell pellets are subjected to phosphatase treatment to verify target phospho-specificity.
The use of blocking peptides verifies specificity and rules out Fc-mediated binding and other non-specific staining.
Thorough lot testing ensures the reproducibility necessary for accurate IHC results.
Dilutions and protocols are predetermined and specified; control reagents are also available.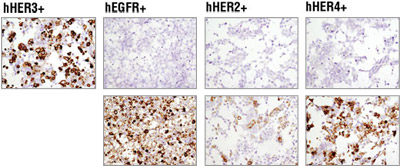 Immunohistochemical analysis of paraffin-embedded 293T cell pellets transfected with human erbB family members HER3, EGFR, HER2 and HER4 (from left to right as indicated) using HER3/ErbB3 (D22C5) XP®Rabbit mAb #12708 (top panels). Transfections were confirmed using EGF Receptor (D38B1) XP® Rabbit mAb #4267 (lower left), HER2/ErbB2 (D8F12) XP® Rabbit mAb #4290 (lower middle) and HER4/ErbB4 (111B2) Rabbit mAb #4795 (lower right).

Immunohistochemical analysis of paraffin-embedded human tonsil using Vimentin (D21H3) XP® Rabbit mAb #5741 in the presence of control peptide (left) or antigen-specific peptide (right).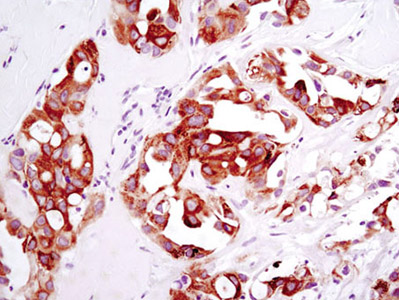 Immunohistochemical analysis of paraffin-embedded HCC78 xenograft using ROS1 (D4D6) Rabbit mAb #3287.