Technical Support
Our scientists are at the bench daily to produce and validate our antibodies, so they have hands-on experience and knowledge of each antibody's performance.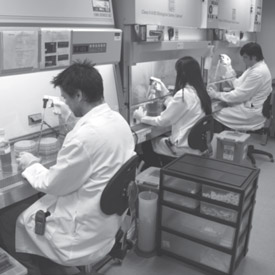 Many research tools suppliers offer technical support through a phone bank of desk workers equipped with a set of scripts and a list of FAQs. At CST, we approach technical support completely differently.
If you contact CST for technical support, the same scientists who produced and validated your antibody will personally answer your telephone call or email, sharing their experience and their data. The CST Production scientists that you interact with are subject matter experts with extensive hands-on experience, often having advanced academic degrees and peer-reviewed publications. They work at the bench every day, striving to continuously improve our products and our level of service to you, our customer. Their wide variety of responsibilities include:
Provide responsive, knowledgeable technical support by phone or email, listening carefully and sharing data from their lab notebooks.
Produce and validate new product lots to ensure lot-to-lot consistency.
Expand our knowledge base of product performance data by testing in additional cell lines, using additional activation or inhibition conditions, evaluating potential protocol optimizations or testing additional applications.
Cultivate scientific insights and awareness through scientific seminars, often involving academic researchers invited to present on the CST campus.
Develop or contribute to development of new products and product concepts.
Attend scientific congresses and act as a scientific consultant for customers visiting the CST exhibit.
When you contact CST for technical support, you can be confident you will be working with a colleague you can trust, striving to provide the highest quality products and services to you, our customer. We do this because that's what we'd want from an antibody provider if we were in the lab every day. Because, actually, we are.
Click here to visit the CST Technical Support resources page.