Exceptional Reproducibility of XP® Monoclonal Antibodies
Technical Support
Our scientists are at the bench daily to produce and validate our antibodies, so they have hands-on experience and knowledge of each antibody's performance.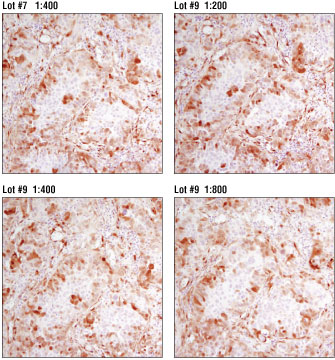 Figure 2.
IHC analysis of adjacent sections of paraffin-embedded human colon carcinoma using
#4370
lot 7 at a 1:400 dilution (upper left),
#4370
lot 9 at a 1:200 dilution (upper right),
#4370
lot 9 at a 1:400 dilution (lower left), and
#4370
lot 9 at a 1:800 dilution (lower right). The recommended dilution for lot 9 remained 1:400.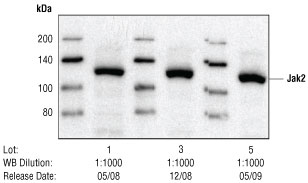 Figure 3.
Western blot analysis of K562 cells comparing lots 1, 3, and 5 of
#3230
, showing that signal remains consistent from lot to lot.