A Guide to Successful Immunofluorescence
Immunofluorescence
Complimentary Poster
Cell Signaling Technology (CST) provides antibodies that have undergone rigorous validation by our in-house immunofluorescence (IF) group – our goal is to provide our customers with specific antibodies that yield the brightest signal and lowest possible background. We aim to provide customers with images clearly demonstrating correct localization and outstanding performance for all IF-validated antibodies. CST also offers Alexa Fluor® conjugated antibodies that are optimized for IF analyses. CST IF-validated antibodies are powerful tools that can be used to determine the activation status of proteins and characterize signaling pathways relevant to cancer and other diseases. All IF-validated antibodies are appropriate for high content screening and some IF-validated antibodies can also be used for *In-Cell Western™.
If you have any questions, please contact our Technical Support team.
Our rigorous validation protocols help us provide specific and reliable antibodies, which helps you get reproducible and meaningful data every time.
Validation: Our antibodies are recommended at optimal dilutions using specific buffers and protocols. Data are generated through extensive testing of appropriate model systems or experimental conditions.
Protocols: We offer detailed protocols so that you can start your experiments quickly and minimize time and reagent waste.
Technical Support: Our knowledgeable technical support scientists are a phone call or email away, so you have a partner at the bench.
Companion Products for Immunofluorescence: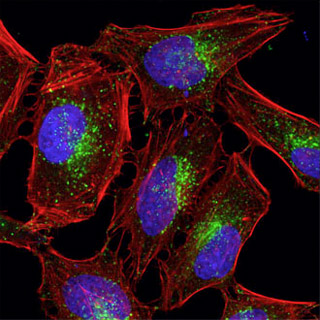 Confocal immunofluorescent analysis of HeLa cells using LAMP1 (D2D11) XP® Rabbit mAb #9091 (green). Actin filaments were labeled with DY-554 phalloidin #13054 (red). Blue pseudocolor = DRAQ5® #4084 (fluorescent DNA dye).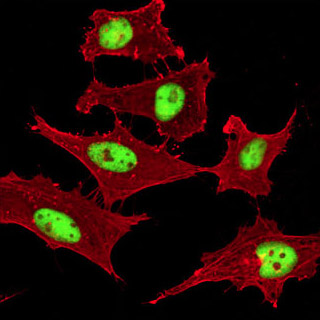 Confocal immunofluorescent analysis of HeLa cells using PCNA (D3H8P) XP® Rabbit mAb #13110 (green) and β-Actin (8H10D10) Mouse mAb #3700 (red).