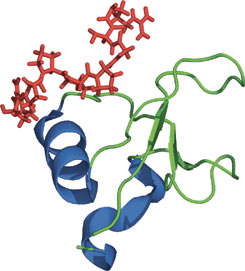 The GYF domain of CD2BP2 in complex with a proline-rich peptide of CD2.
Domain Binding and Function
The glycine-tyrosine-phenylalanine, or GYF domain, was first reported in the CD2 binding protein CDBP2 as a domain capable of binding to a proline-rich peptide sequence in the CD2 tail region. GYF proteins are subdivided into two families: the CD2BP2-type and the SMY2-type subfamily, of which the latter is characterized by its shorter β1-β2 loop and its recognition of a PPGX motif. Despite functioning as a proline-rich peptide binding domain, the GYF fold is structurally unrelated to the SH3 or WW domains. The GYF domain of CDBP2 binds to a PPPPGHR repeat in the CD2 tail via a relatively smooth, concave surface that forms a continuous hydrophobic patch containing many of the GYF domain—conserved residues. The other class of ligands that binds to CDBP2 has the PPGW core motif.
Structure Reference
Freud, C. et al. (2002) EMBO J. 21(22) 5985–5995.
Examples of Domain Proteins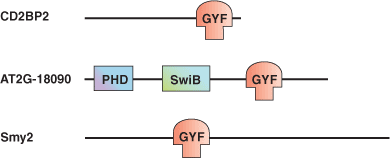 Binding Examples
| | | |
| --- | --- | --- |
| GYD Proteins | Binding Motif | Binding Partners |
| CD2BP2 | PPGW | CD2 |
| PERQ2 | PPGΦ | hSF1, SWAN |
| SMY2 | PPGΦ | MYO D |