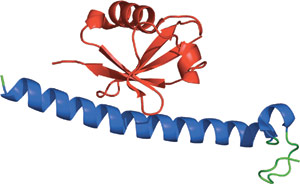 The MIU domain of Rabex-5 bound to Ubiquitin (red).
Domain Binding and Function
The MIU (Motif Interacting with Ubiquitin) domain binds to ubiquitin in a manner similar to that seen during interactions between the UIM domain and ubiquitin, although MIU binds ubiquitin in the opposite orientation. MIU domains have a similar structure to UIM domains, as both domains require a critical Ala residue for ubiquitin binding. MIU-containing proteins bind poly-ubiquitin chains linked through Lys48 or Lys63 of ubiquitin. The presence of MIU domains in proteins such as Myosin VI and Rabex-5 suggest a putative role for MIU domains in ubiquitin-dependant vesicular trafficking.
Structure Reference
Penengo, L. (2006) Cell 124(6) 1183-1195.
Examples of Domain Proteins

Binding Examples
| | |
| --- | --- |
| MIU Domain Proteins | Binding Partners |
| Myosin VI | Mono- and poly- ubiquitin |
| RNF168 | Mono- and poly- ubiquitin |
| Rabex-5 | Mono- and poly- ubiquitin |